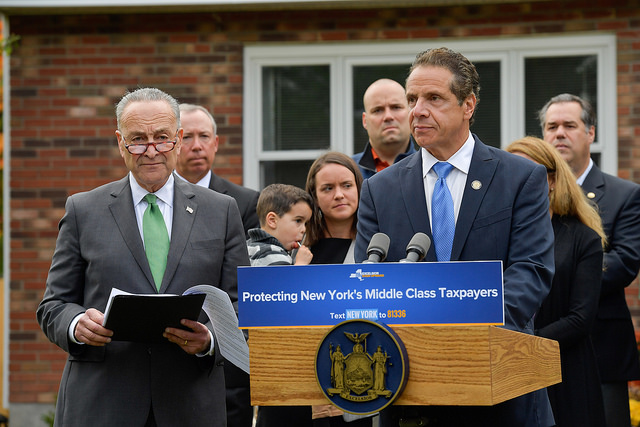 New York Governor Andrew Cuomo and U.S. Senate Minority Leader Chuck Schumer launched a campaign to protect homeowners. Their move comes as the Trump administration is pushing hard its tax reform agenda.
On Tuesday, Cuomo and Schumer encouraged the Congressional delegation from New York to oppose the GOP tax plan to repeal or reduce state and local tax (SALT) deduction.
According to them, many New Yorkers will suffer a tax increase if the GOP tax plan becomes a law. They emphasized that the tax increase would be significant. For example, in Albany County, the average local and state tax is $7,250. Cuomo and Schumer said that amount will increase by an average of $3,438.
Additionally, they pointed out that eliminating or reducing the state and local tax will lower the value of homes in New York. Local and state governments will be forced to reduce homeowners' taxes and cut spending in vital services such as education.
Trump administration is using New York, California as piggybank
Governor Cuomo said the Trump administration's tax cut plan is tax increase plan for New York. According to him, repealing the state and local tax deductibility is a "death blow to New Yorker and the state's economy.