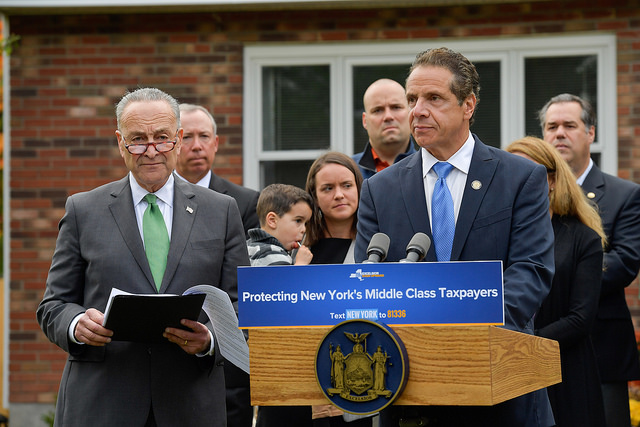 New York Governor Andrew Cuomo and U.S. Senate Minority Leader Chuck Schumer launched a campaign to protect homeowners. Their move comes as the Trump administration is pushing hard its tax reform agenda.
On Tuesday, Cuomo and Schumer encouraged the Congressional delegation from New York to oppose the GOP tax plan to repeal or reduce state and local tax (SALT) deduction.
According to them, many New Yorkers will suffer a tax increase if the GOP tax plan becomes a law. They emphasized that the tax increase would be significant. For example, in Albany County, the average local and state tax is $7,250. Cuomo and Schumer said that amount will increase by an average of $3,438.
Additionally, they pointed out that eliminating or reducing the state and local tax will lower the value of homes in New York. Local and state governments will be forced to reduce homeowners' taxes and cut spending in vital services such as education.
Trump administration is using New York, California as piggybank
Governor Cuomo said the Trump administration's tax cut plan is tax increase plan for New York. According to him, repealing the state and local tax deductibility is a "death blow to New Yorker and the state's economy.
"The current plan only makes it possible to cut taxes for other states by using New York and California as the piggybank. Every member of our Congressional delegation must do everything they can to stop this devastating proposal," said Cuomo.
Repealing SALT deduction: A gut-punch to middle-class families
On the other hand, Schumer said the savings from the local and state deductions belong in the pockets of New Yorkers.
Schumer said, "These deductions should not be eliminated so people making millions of dollars a year can catch a tax break of their own. It simply makes no sense for Congress to eliminate the SALT deduction…"
In addition, the Senate Minority Leader said "every member of the Congress from New York should do the right thing." They must "block the block this gut-punch to New York's middle-class."
Furthermore, Schumer vowed that he will do everything in his power in the Senate to fight the GOP's effort to end critical mortgage, state and local property tax deductions."
Under the current federal tax system, taxpayers can deduct state and local real estate and personal property taxes. They can also deduct either income taxes or general sales taxes if they itemize their federal income tax returns.
Currently, 44 million or 30% of all taxpayers are taking SALT deductions. The GOP plans to completely eliminate the SALT deduction.
California Democratic leaders reject eliminating SALT deduction
Earlier this month, House Minority Leader Nancy Pelosi of California criticized the GOP tax reform framework. She said it is a "deficit-exploding, multi-trillion dollar tax-giveaway to the wealthiest."
Pelosi also blasted the GOP plan to end SALT deduction as an "insidious effort to raise taxes on middle-class families" across the United States.
On the other hand, Sen. Dianne Feinstein she cannot support GOP's plan to eliminate SALT deduction. She considers it a plan to help pay for large tax cuts for the rich at expense of ordinary families. According to him, the plan will surely hurt Californians.