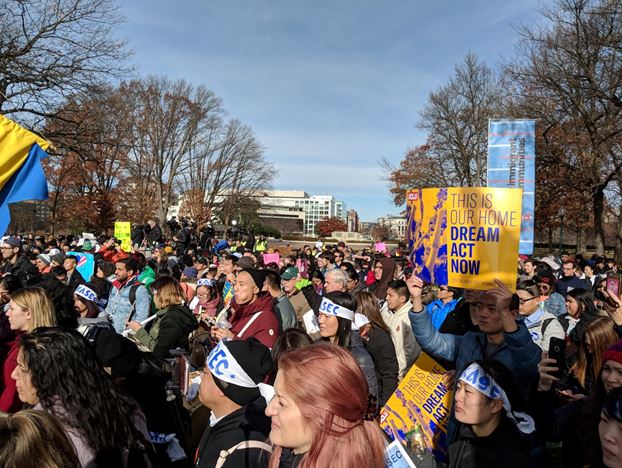 President Donald Trump attacked Democrats regarding the Deferred Action for Childhood Arrivals (DACA) program, which is set to expire on March 5.
In a tweet on Tuesday, Trump stated that Democrats are doing nothing to fix the issue. He accused them of just "playing politics."  The President also claimed that Republicans are about results.
Additionally, Trump believes that DACA activists and Hispanics will "start falling in love" with him and the GOP.
Democrats are doing nothing for DACA – just interested in politics. DACA activists and Hispanics will go hard against Dems, will start "falling in love" with Republicans and their President! We are about RESULTS.

— Donald J. Trump (@realDonaldTrump) January 2, 2018
In September last year, Trump decided to end DACA and promised to resolve the issue with "heart and compassion." The program protected nearly 800,000 undocumented young immigrants also known as Dreamers. The President challenged the Congress to come up with a permanent legislative solution to the problem.
At the time, Trump started negotiating a deal with Democratic leaders Sen. Chuck Schumer and Congresswoman Nancy Pelosi to protect Dreamers. Pelosi and Schumer insisted the bipartisan Dream Act as a legislative solution. However, the negotiations slowed down because the President suffered backlash from conservatives.
Fixing DACA is the right thing to do
Last month, dozens of House Republicans demanded a permanent legislative solution to the DACA program. In fact, they wanted to tackle the issue before the holidays. They told House Speaker Paul Ryan that "reaching across the aisle" to protect Dreamers is the right thing to do. The program is an urgent matter.
However, Speaker Ryan and Senate Majority Leader Mitch McConnell stated that DACA is not a priority. "There is no crisis. There's no emergency. The president has given us to March to address it," said McConnell in an interview with ABC News in December.
Also in December, a bipartisan group of governors encouraged the Congress to prevent the deportation of thousands of Dreamers. They believe that DACA recipients do not know any other home but the United States. According to the governors, the Dreamers are Americans too. They stand with them because it is good for a strong American 21st century economy. In addition, they believe that protecting the undocumented young immigrants is "good for our communities" and the "right thing to do."
On Wednesday, Congressional leader from both parties are expected to discuss DACA at the White House. In order to fix the program, Democrats must agree to fund the construction of a wall along the US-Mexican border.