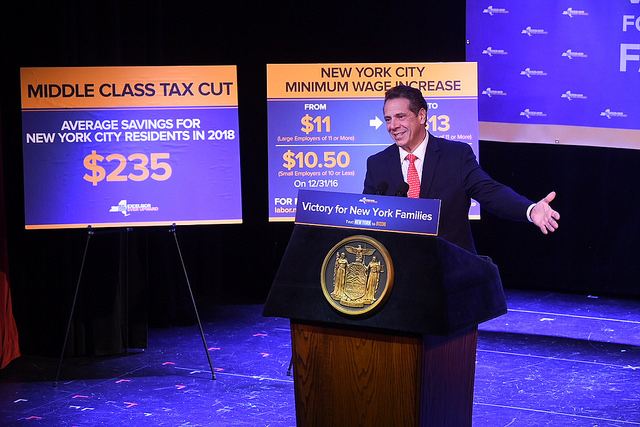 New York Governor Andrew Cuomo announced economic justice programs for the middle-class including minimum wage hikes, tax cut, and paid family leave policy.
For seven years, the governor has been implementing progressive policies for the benefit of New Yorkers.
In a statement, Gov. Cuomo said, "New York has made major strides in the fight for economic equality, social justice and workers' rights." According to him, the state's paid family leave policy is the strongest in the United States.
"New York believes in a fair day's pay for a fair day's work and no family member should have to choose between caring for a loved one or [and] losing their job. This victory will help restore fairness and equality to working families across New York," said the governor.
New York minimum wage
In April 2016, Gov. Cuomo signed into law a legislation authorizing a $15 per hour minimum wage statewide. The law set the schedule and amount of wage increases based on the location of workers and industry. In some cases, the wage hike is based on the size of the company.
Effective December 31, 2017, the minimum wage in New York City increased to the following rates: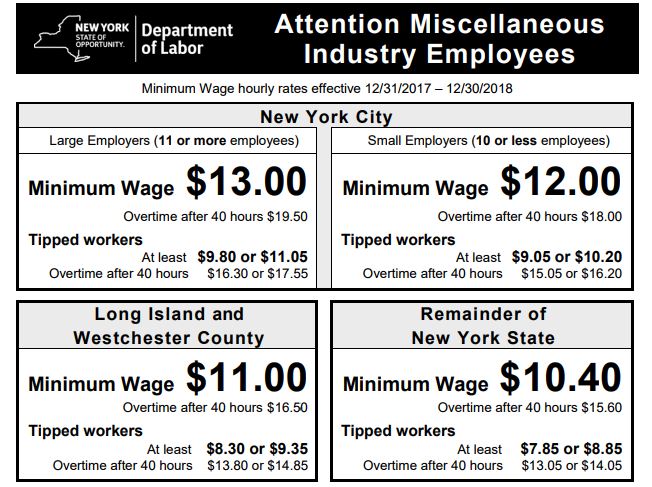 Tax cut for the middle-class
Under the administration of Gov. Cuomo, the middle-class New Yorkers continue to experience reduction in state taxes to record low. The governor's office estimated that the lower tax rates will benefit six million middle-class taxpayers by 2025.
This 2018, New York City taxpayers will see an average state tax cut of $235. In 2025, they will enjoy an average tax cut of $653.
Paid family leave
Starting on January 1, 2018, the state government will implement its new paid family leave policy.
Workesr who will be eligible for paid family include:
Parents during the first 12 months following birth, adoption, or foster placement of a child;
Caretakers for a sick spouse, domestic partner, child, stepchild, parent, stepparent, parent-in-law, grandparent or grandchild;
Employees with a spouse, child, domestic partner or parent who has been notified of an order of active military service abroad.
Additionally, full-time employees with a regular schedule of 20 or more hours per week will be able to take paid family leave after 26 consecutive weeks of employment.
Part-time employees with a regular schedule of less than 20 hours per week can apply for paid family leave after working 175 days for their employer.