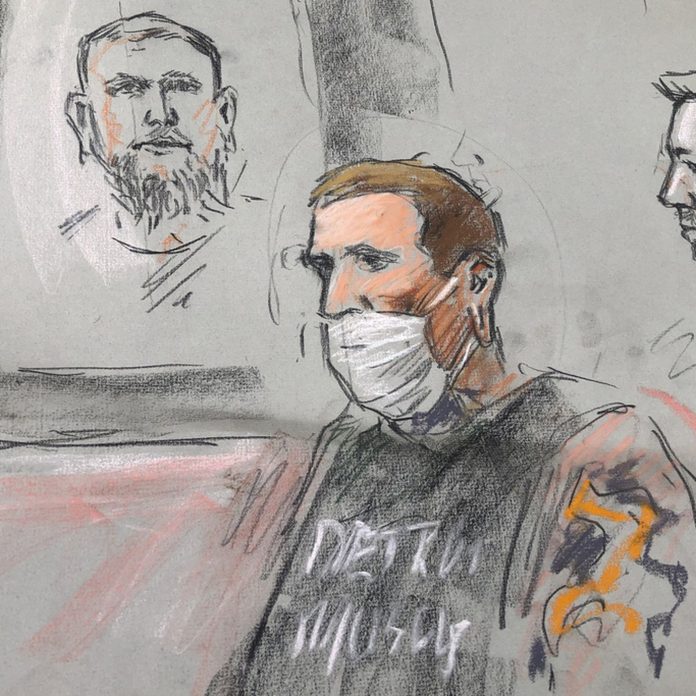 Michigan Defense attorneys brought a motion to dismiss the indictment against five men accused of conspiracy in the  Gov. Whitmer kidnapping case. They are claiming that rogue FBI agents,  untrustworthy informants, and shady prosecutors were creating and directing the conspiracy.
Five men are being charged with kidnapping conspiracy. The trial is scheduled for March 8 in Grand Rapids, Michigan. They have pleaded not guilty. And are claiming to be victims of entrapment.
Last January, a sixth man, Ty Garbin, pleaded guilty. He will be testifying against the others. And is now serving a six-year federal prison sentence.
"Essentially, the evidence here demonstrates egregious overreaching by the government's agents, and by the informants, those agents handled," defense attorneys claim in the motion. "When the government was faced with evidence showing that the defendants had no interest in a kidnapping plot, it refused to accept failure and continued to push its plan."
According to the 20-page court filing, the "conspiracy" was invented by federal prosecutors. And then they went out and tried to entrap people to join. More revelations about the FBI team and their informants continue to shake things up. 
Henrik Impola was the special agent in charge of the confidential informant making hundreds of hours of secret recordings planning the Whitmer kidnapping. He is being accused of perjury in another case. 
Defense attorneys claim Impola testified that he "has had trouble telling the truth under oath."  Prosecutors on the Whitmer case are calling the defense allegations "unfounded." And are now saying  Impola will not be called as a witness.
He is the third agent from the case conspicuously missing from government witness lists.
Whitmer kidnapping case new disclosures 
The motion requests that US District Judge Robert Jonker dismiss the conspiracy charge. And the entire case seems to hinge on proving a conspiracy. If it is dropped the federal government's case and other connected charges may have to be dismissed.
The Detroit News reports the defense motion comes after disclosures about Impola. And the conviction of special agent Richard Trask's arrest on domestic violence charges. Trask has since been fired and convicted of a misdemeanor.
Federal prosecutors argue the men were not entrapped. The government alleges the defendants were upset over coronavirus restrictions. And conspired to kidnap Democrat Michigan governor Gretchen Whitmer.  
According to BuzzFeed News, the Justice Department had already announced agent Jayson Chambers would not be testifying either. 
Agent Chambers had his own private security firm, Exeintel, which was linked to an internet troll while employed by the FBI. 
"The defendants have produced no evidence," Assistant US Attorney Nils Kessler wrote, responding, "showing SA Chambers had a financial stake in the outcome of this case." He added that Chambers left Exeintel "without ever making a deal with a client or deriving any financial benefit."
Prosecutors say any suggestions from defendants that these incidents undermine the case is false. And these are all "irrelevant collateral issues."
The government claims that the five men facing federal trial  Barry Croft, Kaleb Franks, Daniel Harris, Adam Fox, and Brandon Caserta were plotting during the spring, summer, and early fall of 2020.  to "snatch" Gov. Gretchen Whitmer from her lakeside Michigan vacation home and potentially spirit her out of the state.
Defendants are arguing that they were entrapped. And Chambers and Impola, through multiple paid informants and undercover agents, were directing the action. And badgering the alleged conspirators in order to incriminate them.
Other defendants seek dismissal
Eight other men face trial in Michigan state court on related charges. A hearing is scheduled for Monday in Jackson County court to hear entrapment claims from three of them.
In a separate filing Friday, defense attorneys ask permission from the court to use the evidence they believe helps establish entrapment.
They cite 258 different snippets of phone conversations, covert recordings, texts, encrypted messages, and Facebook chats gathered by the government.
 Much of that material would be hard to get into court without calling the defendants themselves to testify, something that's rare in criminal cases because they would face cross-examination from the government.
For example, Chambers sent a text to his informant on Sept. 5, 2020. The FBI agent was encouraging the  group of suspects with,  "Mission is to kill the governor specifically." 
The defendants were resisting Chambers's orders. And the defendants, when led by agents informants to Whitmer's summer house, were not comfortable with kidnapping. And confused as to what the alleged plan could be.
Also on Friday, Kessler wrote in a filing that such evidence should not be allowed in court. "Admitting these statements would permit the defendants to effectively testify without being subject to cross-examination," the lead prosecutor in the case wrote.