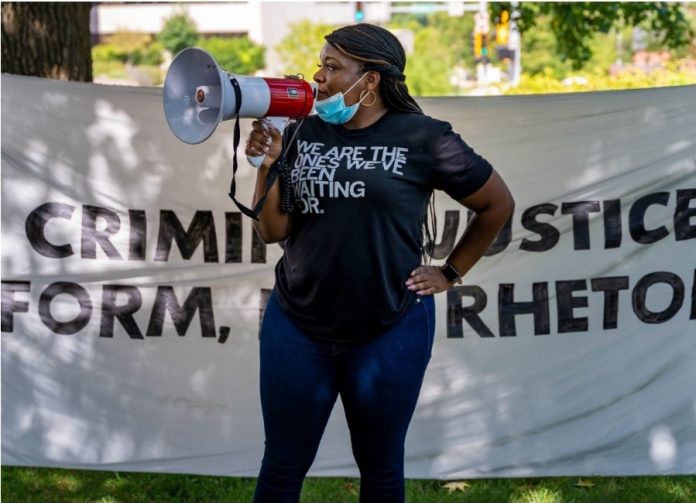 Just under 120 inmates forcefully took over a section of the City Justice Center in downtown St. Louis on Saturday. With the goal of destroying property, the group smashed windows and started fires within the building. Some, even threw furniture to the street below.
The initial chaos began shortly after 2:30 am when a 'defiant' inmate assaulted an officer. This, then prompted  several other inmates to join the vicious attack.
Nearly 8 hours later, officials were able to bring the 'extremely violent' chaos to an end. Allegedly, concerns over COVID-19 spread, limitations on visitors, and slowed court proceedings during the pandemic prompted the riot.
Hours later, Representative Cori Bush (D-MO) took to twitter. Her seeming statement of support for the rioters, stating their grievances need to be addressed and she would do so.
Quoting Martin Luther King Jr., Bush wrote: '"A riot is the language of the unheard."'
She continued: 'I want to talk to my constituents in the window,' Bush tweeted, referring to the inmates. 'Their lives and their rights must be protected. My team and I are working to ensure that the urgent needs of people who are incarcerated are not ignored.'
"A riot is the language of the unheard." – Dr. MLK Jr.

I want to talk to my constituents in the window. Their lives and their rights must be protected.

My team and I are working to ensure that the urgent needs of people who are incarcerated are not ignored. https://t.co/wMq8ecyLQ2

— Cori Bush (@CoriBush) February 7, 2021