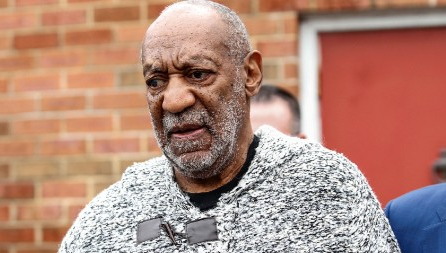 Today marks the 5th day of Bill Cosby's trial for the aggravated, indecent assault of Andrea Constand, reports USA Today. Prosecutors are working tirelessly to engender justice for Cosby's victims and evidence a concrete pattern of him drugging and sexually assaulting a multitude of women. Despite Cosby's refusal to take the stand and testify in his own defense, the prosecution is already in possession of extracts from a statement that Cosby gave 12 years ago when he was under oath. Despite the best efforts of Brian McMonagle and Angela Agrusa, (leaders of Cosby's defense team) he is appearing more and more guilty with each passing day.
Cosby appeared at the courthouse today with a friend, Joe Terry, who accompanied him yesterday as well; Cosby is almost completely blind and needs help with walking. During the case, the Prosecutors instructed a Montgomery County detective to read extracts from the 2005 statement. In the account, Cosby admits to having a romantic and sexual relationship with Constand; he also claims to have attempted to initiate sex with Constand several times. To quote Cosby directly, he touched her "somewhere between permission and rejection." Later, he extended an offer to fund Constand's education after learning that one of this conversations with her was recorded by Constand and her mother. Trying to pay someone off is one of the trademarks of a guilty individual.
Furthermore, it appears as though Cosby's deposition may be one of the most damning documents to his case; in other words, it may just prove his guilt beyond the shadow of a doubt. In 2005, he testified under oath to acquiring quaaludes with the purpose of giving them to the women he wished to have sex with. Quite frankly, this should seal Cosby's fate. What reason (other than conspiracy to commit rape) would he have to provide quaaludes to the women he wanted to sleep with? A quaalude is a hypnotic drug which engenders sleep and depresses the central nervous system. Cosby's admission to securing these pills with every intention to distribute them to the women he wanted to have sex with leaves absolutely no room for question.
Cosby's friends, family, and other people who believe him to be innocent should reevaluate their opinions, especially in light of this new revelation. Innocent men don't offer to pay for the education of women, once they learn that their conversations were recorded. Innocent men also don't purchase quaaludes with the intention of providing them to women they plan to have sex with. These are the actions of a very sick and demented individual.
Bill Cosby is not above the law, regardless of his one-time power, popularity, and prestige. There are countless instances of "celebrities" becoming too big for their britches; Cosby's actions are merely the latest display of this. The prosecution has a very strong case against him; Cosby flagrantly admitted to initiating sex with Constand, attempting to buy her off, and to purchasing quaaludes to give to women he wanted to bed. What else could possibly be needed to prove his guilt beyond the shadow of a doubt?