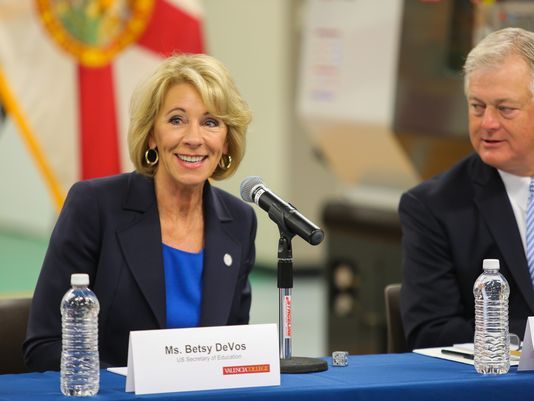 U.S. Secretary of Education Betsy DeVos visited Florida schools in Tallahassee on Tuesday. Her office called this trip a "learning" experience. The two schools she visited were Holy Comforter Episcopal School and Florida State University Schools. One is a religious private school, the other is a charter school.
Arguably Trump's most controversial cabinet pick, DeVos is a major supporter of voucher programs and charter schools.
"I think they're examples of what a lot of schools should aspire to be and look for, opportunities to become more innovative," DeVos told reporters after touring Holy Comforter. "I think that we need to recognize the fact that far too many schools have been stuck in a mode that is basically approaching things that have been done very similarly to 100 years ago. And the world today is much different. And we need to be acknowledging that and moving toward ways that really engage students and take their curiosity and really fire it up and stoke the curiosity to continue to learn."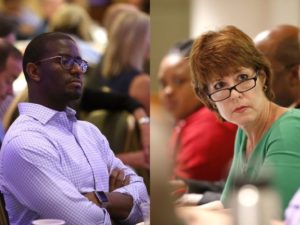 Her visit did not go unnoticed by candidates for the Democratic Nomination for Florida Governor.
On Twitter, Tallahassee Mayor Andrew Gillum said "DeVos' record of supporting for-profit charter school execs speaks louder than any photo-op," he said. "We won't be distracted by her political stunts."
Former U.S. Rep. Gwen Graham took the opportunity to renew her call to "end the education industry" in the state. "Betsy DeVos' for-profit approach to public education is just flat-out wrong for Florida," she said.
"DeVos, Rick Scott and the politicians in Tallahassee have transformed our public schools into an education industry," she continued. "It is an education industry that last year forced our children to take more than 3.6 million standardized tests, and forced our educators to teach to those tests. An education industry that assigns public schools arbitrary grades that humiliate students."
Actually, Gov. Rick Scott, along with many conservatives in Tallahassee, strongly oppose common core. The federal bureaucracy – which oversees our nation's public schools – is greatly responsible for the ever-changing curriculum, deluge of standardized tests, and crony capitalist influence on textbooks and other school resources. As Democrats, both Graham and Gillum are likely in favor of more federal control over education.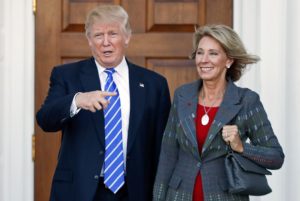 DeVos called Florida's approach to education a "role model" for the nation.
"I think Florida has continued to be an innovator in approaching education and meeting the needs of students," DeVos also said.
She praised the state's approach to education through the Florida Tax Scholarship Program. The Florida Supreme Court recently upheld this voucher-like initiative as constitutional.
The program allows corporations to claim tax credits for donations made to organizations that subsidize private school tuition for low-income students.
Step Up for Students is one such organization. They've conducted research which shows that the number of students relying on tax-credit scholarships has reached close to 102,000 kids.
The Florida Legislature is expected to expand eligibility and enrollment in the program, following favorable results.