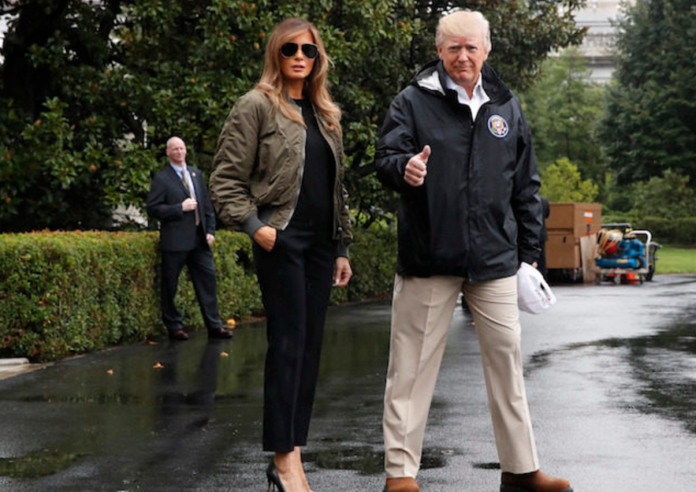 The First Family of America is a class act. Yesterday, President Trump and First Lady Melania flew into Texas, showing their support. Thrilled Texans welcomed the First Couple with cheers and open arms.
Turmoil In Texas
The plight of millions of Texans is trending national news. First and foremost, Hurricane Harvey is now responsible for the deaths of 12 people, as reported by NY Mag. Furthermore, millions of Texans had to evacuate their homes due to floods, seeking refuge at shelters and churches. One of the most pressing issues is lack of room to house everyone in need.
Reactions across the nation and the world are mostly compassionate. Many people expressed their concern and willingness to provide aid to help Texans recover. Celebrities such as Kim Kardashian donated hundreds of thousands of dollars to Red Cross and the Salvation Army. Even Mexico offered to provide aid. U.S. civilians have donated and actively sent canned goods to Texas shelters.
On the flip side, other people have unfortunately taken advantage of Texans' tragedy to spew hatred. [Former] University of Tampa professor Kenneth Storey was fired after labeling Hurricane Harvey as "instant karma" for Texans who supported Donald Trump or the Republican Party. Likewise, the Women's March engendered similar criticism after tweeting out donation requests for exclusively Texan communities of colors.
Sadly, the aforementioned individuals and groups fail to realize that natural disasters do not care about political affiliations or race. People should be coming together to help all communities and peoples in this time of struggle.
President Trump and First Lady Melania
As previously noted, the President and First Lady were joyfully welcomed with open arms. Texans expressed deep appreciation to an upbeat, riveting speech delivered by President Trump.
Subsequently, President Trump and First Lady Melania joined a meeting informing them of enacted measures to counter the damaging offshoots. The President gave the following statements shortly thereafter:
"This was of epic proportion. Nobody's ever seen anything like this and I just want to say that working with the governor and his entire team has been an honor for us."
Deplorable Mainstream Media
Firstly, the media could not help themselves. They simply had to promote their anti-Trump agenda, despite the plethora of Texans quite literally fighting for their lives. As reported by Breitbart News, critics were upset and angered by Melania Trump's footwear.
Prior to the First Lady's boarding of Air Force One, she was photographed in all black, an army green jacket, and stunning black heels. Rather than focus on the First Couple's trip to Texas, the media shined a spotlight on their feelings about whether heels were appropriate to wear in light of the floods. Perhaps these critics were unaware that the President and First Lady were avoiding heavily flooded areas for obvious safety reasons.
When the First Lady landed in Texas, she wore black pants, a white blouse, sneakers, and a FLOTUS cap.
What Really Matters
An unnamed spokesperson for First Lady Melania summed up the controversy surrounding her shoes perfectly:
"It's sad that we have an active and ongoing natural disaster in Texas, and people are worried about her shoes."
Thankfully, the majority of the American people see the situation similarly. First and foremost, Texans are the highest priority. The focus should be on helping them, not critiquing the attire of the First Lady. In order to engender progress and help Texans recover, the people of this nation will need to come together.
More updates will follow as new developments arise.