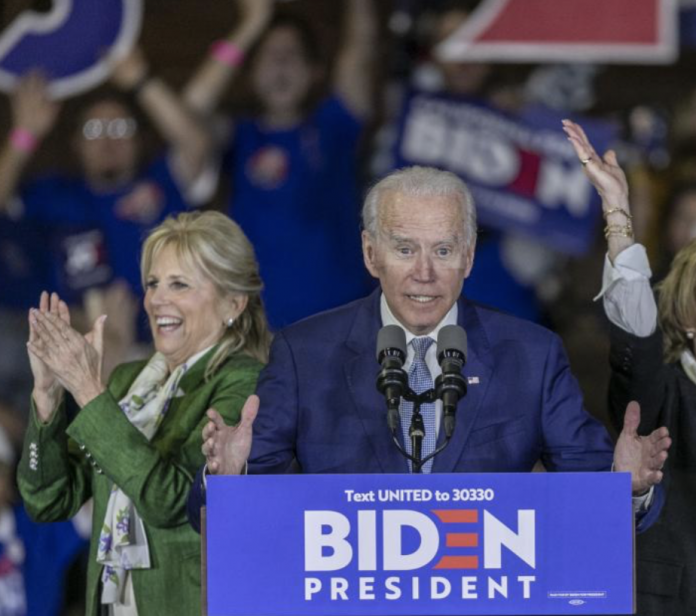 The DNC continues to take backlash in the wake of their propensity to change debate rules. These rule changes, as of late, are sudden and with very transparent agendas.
During businessman Mike Bloomberg's time as a 2020 hopeful, the DNC removed the requirement for candidates to attain a certain amount of individual donors; this removal ultimately allowed Bloomberg to make it on some debate stages before he ended his campaign.
Weeks after this, the DNC upped their requirements after Tulsi Gabbard reached their then-established threshold. By shifting their mandate of candidates needing one delegate to needing 20% of delegates, the DNC all but assured that Gabbard won't make it on this month's debate stage.
Now, the DNC is under fire for yet another change. This time, they are allowing candidates to sit down during the debate on March 15. This decision is facing wide perception as a poorly veiled move to assist Joe Biden.
Why Are Candidates Allowed to Sit at the Arizona Debate?
The DNC issued a curt and short statement in regards to the change for Sunday's debate. This statement declined to mention Joe Biden; however, countless people across the nation are able to read between the lines and see the writing on the wall.
In the Democrat establishment's own words:
"After ten debates, the DNC worked with its network partners to adapt the March debate to the smaller field of candidates and to give voters more of a voice."
Objectively, allowing candidates to sit down does not supply American voters with any more or less of a voice. However, this is the explanation that the DNC chose to put out for public consumption and scrutiny.
Poor Reception to the DNC's Latest Debate Change
Americans haven't reacted very kindly to the latest rule switch from the DNC. Many folks took to social media, pointing out the problems that Biden has experienced. Some of the latest problems include misquoting the Declaration of Independence, stating that Democrats "can only re-elect Donald Trump," and confusing his wife for his sister.
As such, many Americans believe that the DNC is simply trying to make the debate go a little smoother for Joe Biden. Therefore, there are questions about how well Biden will be able to do if he wins the nomination and isn't able to rely on the DNC to intercede on his behalf against Trump.
See some of the most vocal criticism for yourself:
DNC has suddenly changed its debate rules AGAIN: Bernie & Biden will sit & take questions from audience, rather than stand for a moderated debate. In short: it's not a debate. This will only fuel concerns about Biden's cognitive decline & his ability to debate Trump this fall. https://t.co/wqexNADB6d

— Dr. Jill Stein🌻 (@DrJillStein) March 9, 2020
The DNC changed the debate rules not only to exclude Tulsi but to let the candidates sit down. And now the audience will ask questions instead of moderators. I have zero doubt that questions will be planted. It's so obvious that they're trying to protect Joe.

— Secular Talk (@KyleKulinski) March 8, 2020
What is Biden going to do if he's the nominee and he doesn't have the rotted DNC to protect him by corruptly changing the rules that let him basically lounge around in a bed taking questions from nice people instead of having to stand on his feet and directly debate? https://t.co/W8Elnn98eO

— Glenn Greenwald (@ggreenwald) March 8, 2020