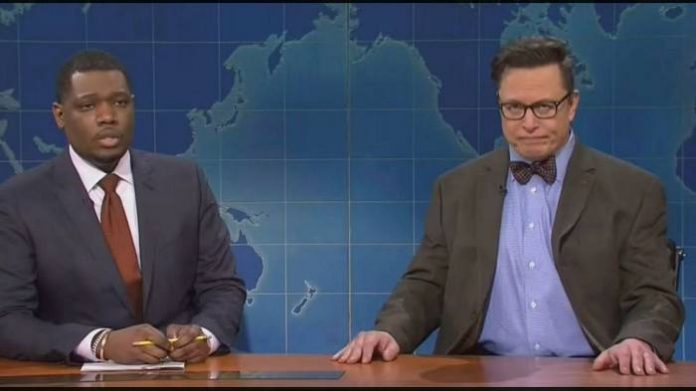 The price of the meme-based cryptocurrency Dogecoin plunged sharply during Elon Musk's appearance on "Saturday Night Live" on May 9.
Dogecoin started as a meme in 2013. However, after Musk's advocacy about the digital token, it has been breaking new all-time high records every time. The meme-based token soared 13,000% on a year-to-date basis, and that's the highest surge in the history of cryptocurrencies.  Nonetheless, the crypto traded at 47 cents on Sunday, a 36% decline in 24 hours according to data from Coinbase.
Musk mentioned Dogecoin during his appearance on the Saturday Night Live Show's "Weekend Update" sketch. The billionaire said that the cryptocurrency would "take over the world" and named himself the "Dogefather." Additionally, when asked if Dogecoin was a hustle, Musk said "yeah, it's a hustle."
Meanwhile, Robinhood, the gamified trading app said that it was experiencing some hurdles with cryptocurrency trading.
"Update: We're currently experiencing issues with crypto trading," Robinhood tweeted during Musk's performance. "We're working to resolve this as soon as possible."
The company told Business Insider that the crypto-trading platform was "back up and running" about 30 minutes after it first reported issues. Robinhood declined to comment on whether the issues were tied to the "SNL" performance.
Dogecoin from a joke, to a millionaire making machine
Dogecoin was originated in 2013 by IBM software engineer Billy Markus and Adobe software engineer Jackson Palmer. The cryptocurrency has surged by 13,000% year-to-date. Moreover, the Reddit group Wall Street Bets which sent GameStop stock to its all-time high rally earlier this year has also cheered Dogecoin.
The support that the cryptocurrency gained was thanks to the billionaire and CEO of Tesla (NASDAQ: TSLA) Elon Musk. The Technoking of Tesla has been defending the meme-based cryptocurrency on every occasion. Musk asked Coinbase to list Dogecoin on its exchange.
Charles Hoskinson the founder of Ethereum and Cardano criticized Musk for promoting Dogecoin. He argued that the digital token can face a bubble very soon.
"(Elon) Musk keeps posting and posting and posting and he really seems to enjoy doing it. But everything that goes up, goes down and our industry will be worse because of it, " Hoskinson said in a YouTube broadcast shared on his social networks.