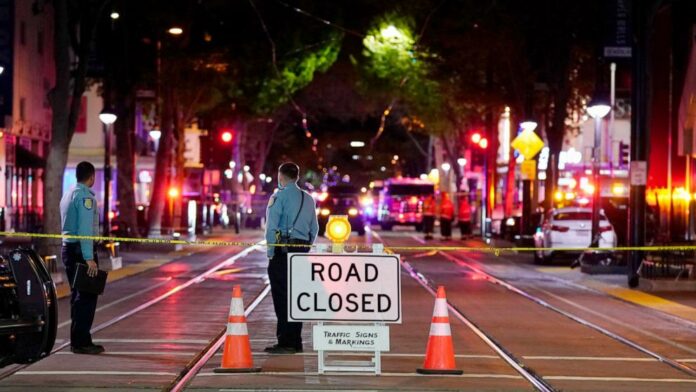 In a harrowing incident that gripped the city, a man barricaded himself atop a downtown Sacramento parking garage and was fatally shot by police after hours of intense negotiations. The drama began unfolding around 1 a.m. in the Downtown Plaza West parking garage at Third and L streets. Witnesses reported the man menacingly brandishing a silver weapon, prompting swift police response.
 Timeline of the Downtown Sacramento Shooting Incident
1 a.m.: The initial reports reached the police after three 911 callers mentioned being approached by the man with a gun after leaving the elevator in the parking structure. This garage, sandwiched between Macy's department store and the Downtown Commons area to the west and Interstate 5 to the east, became the focal point of the event.
Shortly After 1 a.m.: Officers quickly located the suspect, who was strategically positioned behind walls on the topmost floor. Reinforcements, including a SWAT team and crisis negotiators, were summoned to defuse the situation.
5:30 a.m.: Hours of negotiation culminated in a chilling climax. Sgt. Carlos Martinez, representing Sacramento police, recounted the man's erratic behavior. After firing several shots and pointing his gun at an officer, police were forced to neutralize the threat. Witnesses and footage captured by CBS13 revealed the man's agitated state, intermittently covering his face with a shirt.
9 a.m.: Tragedy was confirmed. Sgt. Martinez announced the man's passing, a result of the injuries sustained during the police confrontation. Preliminary investigations indicated that the police had refrained from using less-than-lethal weapons during the face-off.
11:30 a.m.: The streets encircling the scene of the Downtown Sacramento shooting incident — including Third, Fifth, L, and J around the erstwhile Downtown Plaza — were reopened to traffic. However, the garage was expected to stay inaccessible for an indefinite period.
 Aftermath and Ongoing Investigations
The exact series of events leading to the fatal shooting remains under scrutiny. Martinez noted the uncertainty surrounding whether the gunman had fired at anyone else prior to or during the standoff. Following the confrontation, officers retrieved the handgun. Apart from the deceased, no other casualties were reported. The identity of the man remains undisclosed as of late Tuesday morning.