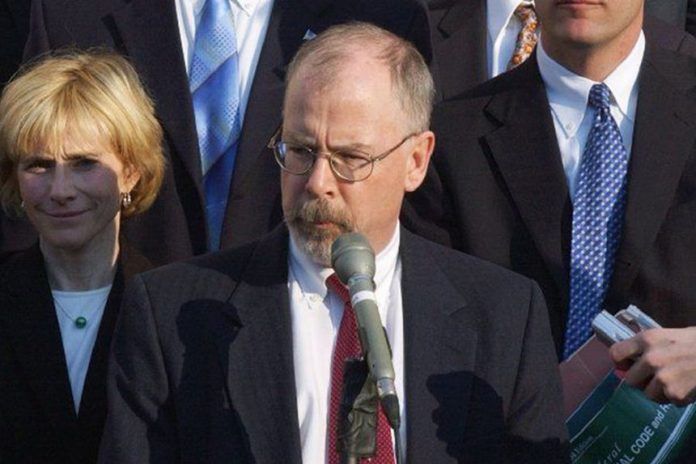 U.S.-based Russian analyst, Igor Danchenko who allegedly helped fabricate content in the   Steele dossier was indicted Thursday. 
Federal authorities arrested Danchenko as part of the ongoing inquiry, led by special counsel former U.S. attorney John Durham.
The five-count indictment alleges Danchenko made false statements to the FBI when interviewed in 2017. He lied about his role with Christopher Steele, the former British spy who was paid by Democrats for oppo research.
Steele Dossier, Fusion GPS, Clinton campaign all linked
Fusion GPS put together former MI6 agent Christopher Steele's dossier. The Steele dossier was paid for by Hillary Clinton's presidential campaign and the DNC in  2016.
 The dossier has been discredited with very few if any of its information being true. At the time, the information in the dossier was widely leaked and reported as factual by the media.
These leaks came first from Steele himself and the Clinton campaign. Then later from the FBI by Andrew McCabe and others involved in the FBI's so-called Trump Russian collusion campaign.
McCabe was fired for lying to the FBI among other allegations. He has since had his pension reinstated through a settlement with the new Democrat-led Department of Justice.  
Among the disproven false claims in the Steele dossier was the so-called "pee tape" that involved Russian hookers and Donald Trump.
Durham investigation ongoing
Danchenko, first interviewed by the FBI in 2017, is facing charges similar to those recently filed against Michael Sussmann.
Sussman was indicted in the U.S. District Court for the District of Columbia in September on a charge of lying to the FBI. Sussmann was a high-profile cybersecurity lawyer who worked for the Clinton campaign at the time. And he took the dossier and other mocked-up cybersecurity info to the FBI to kick off an investigation.
Before the current indictments, Durham was able to convict former FBI lawyer Kevin Clinesmith. Clinesmith pled guilty and admitted he altered email evidence. The email was used to obtain a Foreign Intelligence Surveillance Act (FISA) warrant for surveillance of the Trump campaign.
The altered evidence disguised the fact that then-Trump Campaign Foreign Policy Adviser Carter Page was a CIA source. There were multiple false claims about Carter Page made in the dossier. And most of them were already disproven by the time Clinesmith faked the evidence.
Carter Page was wiretapped for almost a year. He had FBI and Steele Dossier information leaked and amplified in worldwide media until 2019. During that time he was accused by multiple mainstream media sources of being a Russian spy. Carter Page was never charged with any crime. 
The Carter Page investigation later morphed into the Robert Mueller Russia investigation. The Mueller inquiry found no criminal conspiracy between Moscow and the Trump campaign on any level.