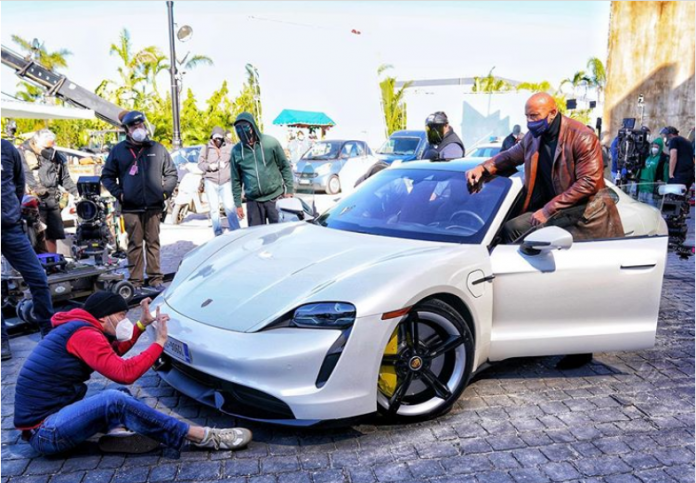 The upcoming Netflix action comedy thriller film "Red Notice" starring Dwayne  Johnson (The Rock) has gotten huge conversations over the last few weeks.  Thanks to the star's building up the momentum of the much-awaited film.
Dwayne Johnson, in fact, shared several images from the action flick — one of which shows us that life as a walking man-volcano is not that easy.
In an Instagram post, the professional wrestler and defensive lineman shared a hilarious photo of him about to squeeze himself into a Porsche Taycan electric midsize sport sedan that was used for a key sequence in the film.
He posted, "Aaaaand guess who's too big to fit in yet another sports car and now we have to change the entire shot sequence around." He was supposed to lead a chase sequence where he would hop in the iconic Porsche.
"Well, after months of prep and costs 💰 buying and shipping this car over to the states – it's time to rehearse the big chase sequence," he said in the post. He said he struggled "trying to shimmy into this Porsche like a big *** brown marshmallow getting shoved into a coin slot."