He was convicted in 2019 on charges related to a continual criminal enterprise and massive cocaine distribution in the US. El Chapo had previously orchestrated daring escapes from Mexican prisons in 2001 and 2015 before being recaptured in 2016 and subsequently extradited to New York to face trial.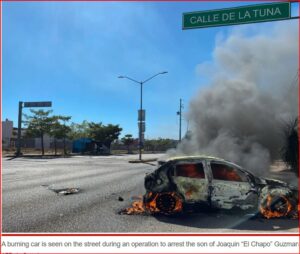 Coronel's stepson, El Chapo's son, Andres Manuel Lopez Obrador, was recently extradited from Mexico to the US to face a series of drug trafficking and money laundering charges.
López, 32, was transferred from a maximum-security prison in Mexico. He was arrested because authorities believe he is now leading the powerful Sinaloa drug cartel founded by his father. 
His capture triggered an outbreak of violence that killed at least 30 people, including 10 military personnel.
 These latest developments underscore the enduring and complex web of intrigue surrounding the Guzmán family and their involvement in the dark organized crime syndicate known as the cartel.