Tesla (NASDAQ: TSLA) CEO Elon Musk updated his Twitter bio on Friday — adding the word Bitcoin (BTC). As a result, the cryptocurrency's price soared 20% instantly to reach $37,413 then slightly decreased to $34,000.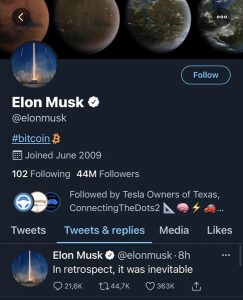 Currently, Musk has over 44 million followers on Twitter.  On many occasions, his tweets proved he is more into Dogecoin. However, his latest move suggests that he is becoming more interested in Bitcoin, the leading cryptocurrency Bitcoin. 
This is not the first time that Musk contributed to the surge of a cryptocurrency. In December, he tweeted about Dogecoin, resulting in a 20% price surge.
On Friday,  over $387 million worth of Bitcoin short liquidations occurred on Binance, FTX, Bitfinex, and other major cryptocurrency platforms. Market observers suggested that it was prompted by the billionaire adding Bitcoin to his profile on the microblogging platform.  
The Bitcoin short liquidations on Friday was the largest since January 2 when $575 million worth of shorts were closed that day,  according to data provider Coinalyze.
An Elon Musk tweet can move markets
Additionally, Musk's tweets have been moving markets. He tweeted about GameStop (NYSE: GME) calling it "GameStonks" — a meme name, and a slang word for stocks, that social media users gave to the company after its recent price surge. Moreover, Musk's tweet contributed to adding over $10 billion of valuation to the company.
Gamestonk!! https://t.co/RZtkDzAewJ

— Elon Musk (@elonmusk) January 26, 2021
Few hours after tweeting about Gamestop — Musk tweeted "I kinda love Etsy", causing a 9% surge to the online craft marketplace.
I kinda love Etsy

— Elon Musk (@elonmusk) January 26, 2021
Ironically, Musk tweeted in 2018 that he wants to take Tesla private at $420 per share. The Securities and Exchange Commission (SEC) didn't take his tweet lightly. The Commission fined Tesla and Musk a total of $40 million ($20 million each) to settle the suit for breaking federal securities laws.