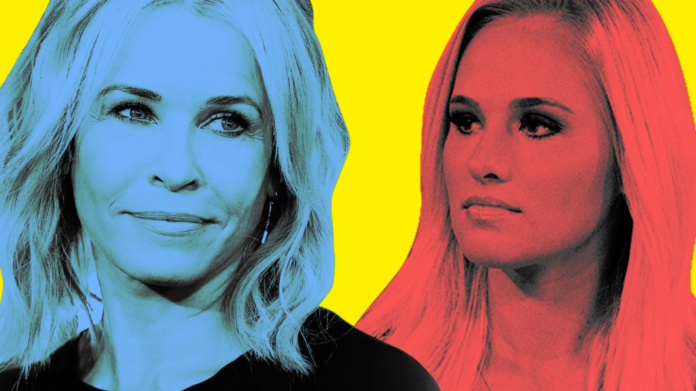 Tension and anticipation was at its peak on Saturday when liberal talk show host Chelsea Handler and conservative commentator Tomi Lahren sat down at the 2017 Politicon event for a debate on President Trump and other political issues. According to The Daily Beast, Lahren was thrilled, expressing her feelings on social media, while Handler remained silent. Apparently, she viewed the exchange as a mere interview, unlike many others who were sure about a heated debate. It turns out they were correct.
Lahren and Handler began their debate with discussing mutual views they shared, such as the value of hard work and the rapper who calls himself 50 cent. The two women also discussed where they came from and how they got to where they are now. However, as Handler and Lahren discussed the political issues, the clash of opinions become more evident.
Lahren boldly stated her support for limited government, strong borders, low taxes, and free market capitalism. In response to Lahren's advocacy for limited government, Handler questioned her about "human decency" and the need for healthcare. This key subject marked a divider between liberal values and conservative values.
As Lahren stated, single payer healthcare and socialized medicine absolutely hurt the people whom it is intended to help. Relying on the government for healthcare is incredibly dangerous because what the government can give, it can also take away. This train of thought is apparently missed by the political left, as Handler incorrectly stated that socialist nations have no issues with healthcare.
After covering healthcare, Lahren and Handler went on to discuss their opinions and perceptions of President Trump. As Lahren stated, when the President's work on job restoration, the halting of illegal immigration, and much more is taken into account, mean tweets really do not matter in the grand scheme of things. Handler, however, had a very different viewpoint of our sitting President, even going so far as to saw that he is "kind of like a toddler." Handler also expressed her concerns with President Trump's administration, noting the plethora of "shake ups" and influx of people coming and leaving which concerns her.
National security was the next topic of conversation. Lahren remarked that she felt "safer than ever," including that many of her friends are veterans, thus receiving great applause. The two women also shared their thoughts on the Middle East plight, with Handler noting her lack of confidence in President Trump's ability to come up with a viable solution.
When discussing the issues of transgender people in the military, Lahren called it a positive step, stating that her decision was not motivated by hatred for transgender people, but by the reality that the military is not about individuals, but about neutralizing grave threats. She also mentioned the issues with transgender people not being able to go on the battlefield when they are medicated.
The Tomi Lahren v. Chelsea Handler debate was interesting and hyped up, to say the least. The audience was rambunctious, frequently cheering and booing both Handler and Lahren depending on who said what. Although both women had contrasting views on government, healthcare, national security, and military affairs, Lahren and Handler respected each other and made sure their opinions were heard.
You can view the full debate between Tomi Lahren and Chelsea Handler here.