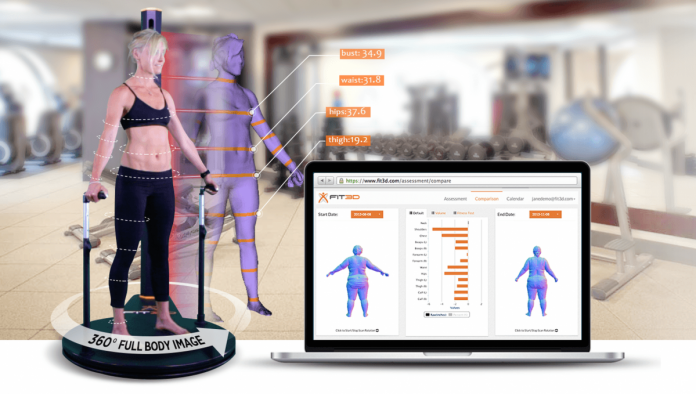 Recently, we've seen major established retailers close shop due to online shopping or items just not being sold. This resulted in a company like Burberry to burn roughly 28 million pieces of unsold stock. Change is very much needed to keep the fashion industry alive and growing, from retailers to high-fashion brands. Fit3D, makers of the ProScanner 3D body surface scanner, committed to slashing the $100B annual loss in the fashion industry. They'll do this by offering more than 500,000 body scans using the Fit3D ProScanner.
Fit3D is now publicizing it's launch of their BodyBlock AI body scan data services for the apparel and garment industries. According to Fit3D's press release, "Retail companies lose billions every year due to improperly fitting clothes. This is a global fashion issue with $64B in lost profits for apparel returned because of poor fit and $43B spent on revamping sizing charts for each of a brand's product lines." Don't those numbers make you feel wasteful? There needs to be a financial and environmental change within the fashion industry.
BodyBlock AI services are created for clothing designers. Their services help designers eliminate the hassle of conducting a traditional sizing study, a fashion industry standard. They work with your design team to understand your product lines, and specifications needed to break down a size array. Designers also have access to the 3D body scans via BodyBlock, so they can be used during the design process.
Per Marcus Ogawa, managing partner of Quest Venture Partners, "Fit3D can quickly capture accurate 3D human body avatars cost effectively. They focus on using a one-of-a-kind proprietary dataset to help apparel and retail companies efficiently design and distribute clothing to fit their target audiences and they are the only real game in town with a billion dollar market potential in apparel alone."
A few recent facts about the Garment and Apparel Industry:
The global apparel industry, including online and brick-and-mortar sales, loses $100 billion each year across the ecosystem due to improper fit.
There are hundreds of thousands of tons of material waste from returns, including fabric, wash, and gasoline through shipping and logistics.
The problem is particularly painful for online fashion retailers who carry the added burden of both outbound and return shipping costs.
How can Fit3D impact change for the fashion industry?
The data will improve fit for clothing during the design process, but apparel companies can also offer recommended fit for consumers.
When packaged correctly using Fit3D's data and machine learning (ML) capabilities, Fit3D can significantly reduce the monetary loss and waste.
A ten percent reduction in returns could save retailers millions of dollars, improve margins, and shareholder value.
The 500,000 body scans provided by Fit3D include scans from 45 countries and 47 U.S. states. The fast-growing dataset is 65 percent female and 35 percent male with ages ranging from under 25 to 80.
The Fit3D body avatar data will be available via four BodyBlock AI services:
BodyBlock Sizing – Customized data collection and regression analysis for apparel companies, designed to improve fit. This data can be imported directly into apparel 3D design technology like Browzwear, Clo3D, Optitex, etc.
BodyBlock Insights – A data platform with hundreds of thousands of anonymized 3D body scans from around the world. The data can be filtered by multiple segments including proprietary size studies, gender, age, geographic location, and more.
BodyBlock Marketplace – Where made-to-measure, custom, and bespoke brands can offer clothing and services to previously scanned Fit3D users. The user selects a brand, then opts-in to share the necessary information and is redirected to the brand's page.  From there, users select products based on preference and the brand automatically sizes the products using the user's Fit3D data.
BodyBlock Predict – Leveraging machine learning for analysis of the proprietary dataset, clothing retailers can use Fit3D's predictive measurements to recommend sizing in the stores and online. Consumers don't need a full body scan to take advantage of this service. Fit3D can extract measurements from a photograph or a questionnaire to predict how that brand's clothes will fit the individual.
As of today, more than 1200 Fit3D ProScanners are currently operating in 45 countries. Per Fit3D, sales from direct selling and distributors have doubled from 2016 to 2017 and is on-track to exceed 100 percent sales growth in 2018. One has to wonder if with Fit3D's impact, designer fashion may be less expensive. Only time will tell.
###
Source: Fit3D