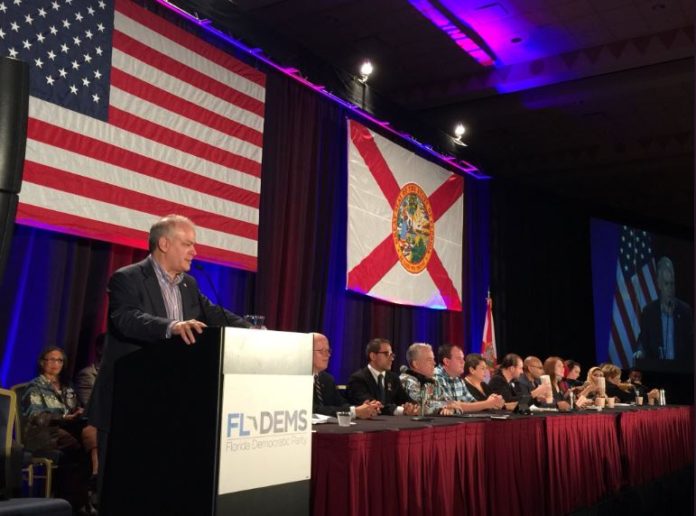 Florida Democratic Party (FDP) Chairman Stephen Bittel resigned on Friday after six women accused him of sexual misconduct.
Bittel is a millionaire real estate developer in Miami. He became chairman of the Florida Democratic Party in January. He is the latest influential man entangled in the sexual harassment/ misconduct scandal that shook both Democratic and Republican parties.
According to Politico, the women alleged that Bittel created a demeaning and unprofessional workplace environment. They felt uncomfortable being alone with him because of his "body language, suggestive comments, and breast-shaped stress squeeze-ball" on his desk. The women also accused him of "leering at young women and even inviting them on his private jet."
Bittel apologized for his inappropriate actions and comments
In statement posted on Twitter, Bittel announced his decision to step down from his position. He also apologized for his behavior during his tenure as chairman of the Florida Democratic Party.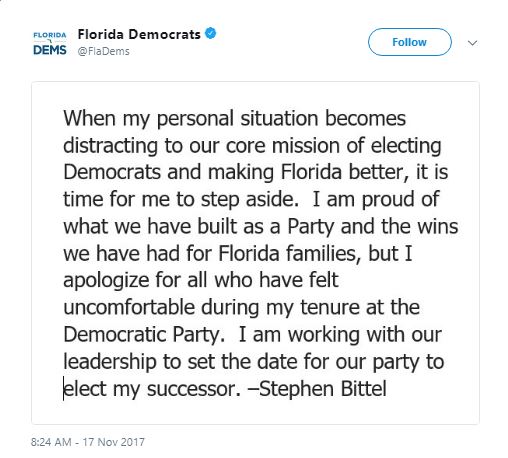 In a separate statement sent to CNN, Bittel said he was "deeply sorry" for his wrongful actions and comments towards women.
According to him, "Every person, regardless of their gender, race, age or sexuality, should be treated with respect and valued for their hard work and contributions to our community. If any of my comments or actions did not reflect that belief, I am deeply sorry."
He added, "I have much to learn, but my goal is and has always been to make sure every member of our party has a safe environment in which to succeed. It seems I've not been successful in that goal, and I will do better."
Florida Democrats called for Bittel's resignation
Tallahassee Mayor Andrew Gillum is among the Democrats who called for Bittel's resignation as FDP chairman.
Gillum said, "These courageous women came forward with disturbing stories of harassment. It's our duty to stand in the gap for them and others in these situations. Although these allegations are not criminal, they clearly paint a picture of a hostile working environment for women."
Miami Beach Mayor Philip Levine commented, "I hope Chairman Bittel does the right thing and steps down as chairman. No individual should feel less than safe and comfortable in their workplace."
Former U.S. Representative Gwen Graham posted on Twitter that she called Bittel and asked him to resign. According to her, "No one should have to work in an uncomfortable environment. Bittel's behavior and the atmosphere he has created is unacceptable. He must resign."
The Florida Democratic Party said it will elect its new chairman on December 9. Its first vice chairman, Judy Mount will assume as chairman on interim basis.