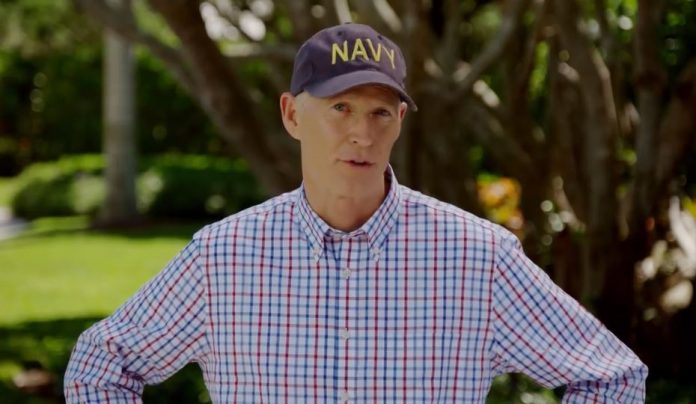 Florida Gov. Rick Scott formally announced his decision to run for the U.S. Senate, challenging incumbent Democratic Senator Bill Nelson.
Floridians have long anticipated that Scott will enter the Senate race, which is likely one of most expensive races in the 2018 midterm election.
In a video posted on social media, Scott said, "Some say as governor, I have never fit in or played by the political rules in Tallahassee. Well that's true. And I never planned to fit in."
"I won't fit in in Washington, either. It's time to shake the place up. We don't need another politician in Washington. It's full of politicians, and that's why it is broken."
In the video, Scott stated the he is focused on creating jobs because he grew up poor. He was raised by his mother and stepfather, who has a sixth grade education and struggled to find work. They lived in public housing and move around a lot.
He added, "The deck was stacked against me, but I had two things going for me—my mom and this country. My mom worked multiple jobs. She made me into a hard worker and she fought for me. And even though I grew up poor, I tell people I grew up with a silver spoon in my mouth. You know why, because I grew up in America—the land of opportunity."
Scott kicked off his campaign for the Senate during an in event in Orlando on Monday morning. He told his supporters that people are "flocking to Florida" because the state is "where people can live their dream in this country." He noted that from 2006 to 2010, people are leaving Florida because they can find a job or maybe losing their house. The situation is now different in Florida.
Since Scott took office in 2011, the unemployment rate in Florida dropped from 10.7% to 3.9% in February 2018. As governor, Scott succeeded in creating jobs. On Monday, he emphasized that he will take that same mission to Washington.
Additionally, Scott called for term limits in Congress. He said. "This concept of career politicians has got to stop. We're not going to see a change in Washington if we don't have term limits on Congress."