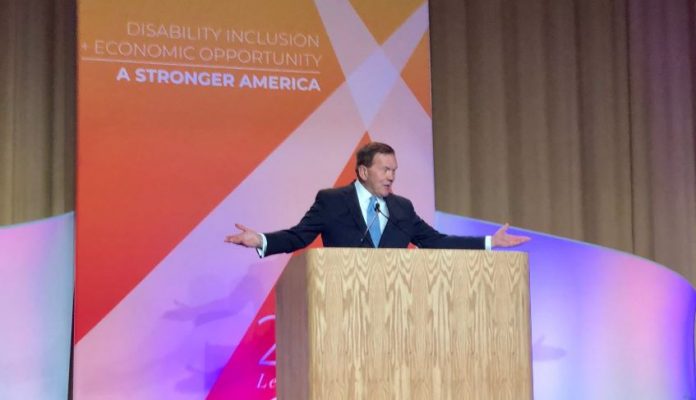 Former Pennsylvania Governor Tom Ridge criticized the Trump administration's proposed 2020 budget, particularly the funding cuts on programs that support people with disabilities.
Mr. Ridge is a Republican and currently serving as chairman of the National Organization on Disability.
One of the programs included in the Trump administrations chopping block was the Special Olympics, which provides sports programs for adults and children with developmental disabilities.
The White House budget office wanted to cut $18 million in funding for Special Olympics. The Department of Education included the proposed funding cut in its budget proposal. Last month, Secretary Betsy DeVos defended the proposal during a congressional hearing. She explained that he Special Olympics is not a federal program and it can raise money from the private sector.
An "unjust and fiscally foolish" budget proposal
In an op-ed recently published on the New York Time, Mr. Ridge noted that President Donald Trump was forced to restore funding for Special Olympics because of a strong bipartisan backlash. He welcomed Trump's action, but he said it was "incomplete."
The former Pennsylvania Governor wrote, "Most Americans do not know that the 2020 budget is still full of cuts that aim directly at many other programs that support people with disabilities."
He added, "The Trump administration's fiscal year 2020 budget would make cuts across multiple agencies and offices that serve Americans with disabilities, stripping them of essential resources. Of particular urgency to me and many of my colleagues are the devastating impacts that the weakening of these agencies would have on job seekers with disabilities."
According to Mr. Ridge, the programs and services at risk of funding reduction include independent living centers, assistive-technology programs, supports for people living with brain injuries, family caregiver support services, etc.
The Department of Labor's Office of Disability Employment Policy (ODEP) is also on the chopping block. ODEP is the only non-regulatory federal agency that coordinates and promotes hiring people with disabilities.
Mr. Ridge said, "Cutting funding to these critical programs — that turn tax consumers into taxpayers — is not only unjust but also fiscally foolish. That's especially true now, at a time when our nation is seeing historically low unemployment rates and employers need to find new sources for talent.
Furthermore, he pointed out, "The exclusion of any group of people from our economy is not only a problem for those who've been excluded. It's a scourge on our democracy that touches us all."