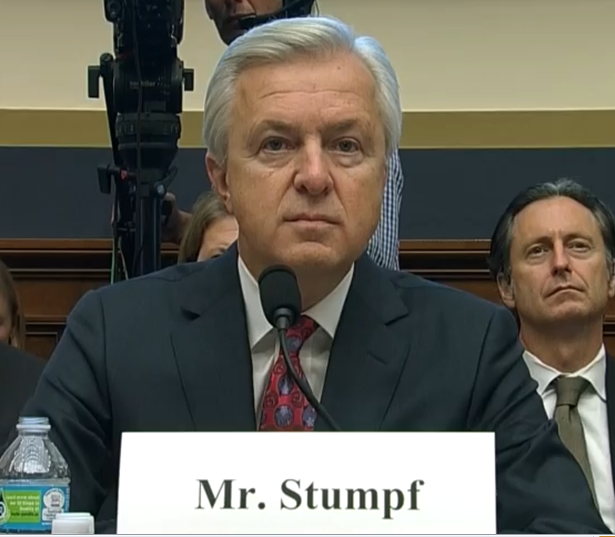 John Stumpf, the former CEO of Wells Fargo & Company (NYSE:WFC), agreed to settle the charges against him in connection with his involvement in the fake account scandal.
Federal regulators found that Wells Fargo engaged in a widespread illegal practice of opening fake deposit and credit card accounts without the consent of its customers. The bank's low-level employees opened more than two million fake accounts due to extreme sales pressure from top executives and their desire to receive compensation incentives.
On Thursday, the office of the Comptroller of the Currency (OCC) announced that Stumpf agreed to the order prohibiting him from working again in the banking industry. He also agreed to pay a penalty of $17.5 million.
The former Wells Fargo CEO settled without admitting or denying the regulator's allegations against him, according to the consent order.
Stumpf forfeited nearly $70 Million in equity-related bonus, salary and retirement funds
Also, in connection with the fake account scandal, the consent order stated that Stumpf voluntarily forfeited all of his unvested equity awards (worth approximately $41 million) and his 2016 bonus and salary.
The problem also prompted him to return incentive compensation valued at around $28 million to Wells Fargo, effectuated in part through the bank's non-payment of his retirement funds.
Aside from Stumpf, Wells Fargo's former Chief Administrative Officer and Human Resources Director Hope Hardison and former Chief Risk Officer Michael Loughlin agreed to settle.
Hardison and Loughlin agreed to pay $2,250,000 and $1,250,000 in civil money penalty, respectively. They agreed to follow all laws and regulations when affiliated or employed in any depositary institution. They also agreed to cooperate fully and promptly with the OCC in any OCC investigation, OCC litigation, or OCC administrative proceeding.
Five former Wells Fargo executives still facing similar charges
The OCC filed charges against five other former Wells Fargo executives including the following: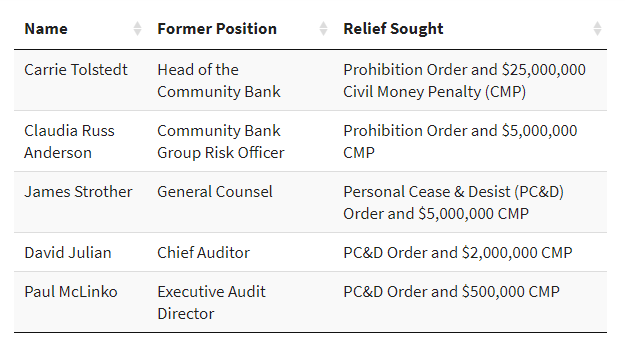 In a statement, Comptroller of the Currency Joseph Otting, said, "The actions announced by the OCC today reinforce the agency's expectations that management and employees of national banks and federal savings associations provide fair access to financial services, treat customers fairly, and comply with applicable laws and regulations."