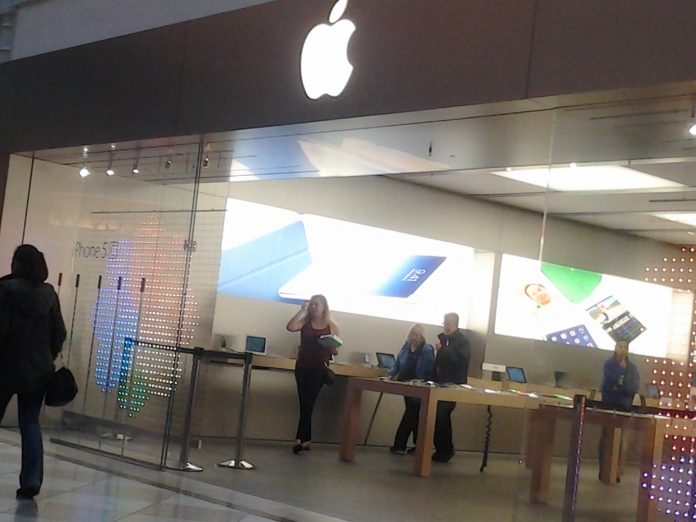 Apple Inc. (NASDAQ; AAPL) is facing a lawsuit filed by Epic Games, the maker of Fortnite online video games, alleging that the tech giant is engaged in "anti-competitive restraints and monopolistic practices."
Epic's lawsuit comes after Apple removed Fortnite from the App Store on Thursday when it started offering a 20% permanent discount on every purchase if players chose its direct payment. Its move attempted to skirt the tech giant's policy of charging developers 30% fee for every app sold on the App Store.
A spokesperson for Apple explained in a statement that the tech giant's decision was prompted by Epic's "unfortunate" action—"violating the Apps Store guidelines" by "enabling a feature in its app" without its approval.
Epic "did so with the express intent of violating the App Store guidelines regarding in-app payments that apply to every developer who sells digital goods or services," according to Apple's spokesperson, adding that the "guidelines create a level playing field for all developers and make the store safe for all users.
Additionally, the tech giant's spokesperson noted that Epic agreed freely to the Apps Store terms and guidelines for a decade. The Fortnite developer "built such a successful business on the App Store and its "business interests now lead them to push for a special arrangement."
"We will make every effort to work with Epic to resolve these violations so they can return Fortnite to the App Store," according to the spokesperson for Apple.
Epic responded with a lawsuit, which means it does not want to work with Apple to resolve the matter.
Epic is not seeking monetary relief for damages caused by Apple
In the lawsuit, Epic alleged that "Apple imposes unreasonable and unlawful restraints to completely monopolize" the multibillion-dollar iOS App distribution market and the iOS in-app payment Processing market.
Epic stated, "The anti-competitive consequences of Apple's conduct are pervasive… and its lawsuit aims to "end Apple's unfair and anti-competitive actions…"
Epic said it is "not seeking monetary compensation" for the financial harm caused by Apple. It is not seeking favorable treatment for itself. Instead, it is "seeking injunctive relief to allow fair competition in these two key markets that directly affect hundreds of millions of consumers and tens of thousands, if not more, of third-party app developers."
Aside from the lawsuit, Epic also published a 30-second video called Nineteen Eighty-Fortnite, which encourages players to join its fight to stop Apple's alleged monopoly and to "stop 2020 from becoming 1984, the year when the tech giant claimed that it is a "revolutionary force breaking IBM's monopoly of the computing technology market.
————————————————–
Have a story you want USA Herald to cover? Submit a tip here and if we think it's newsworthy, we'll follow up on it.
Want guaranteed coverage? We also offer contract journalism here.  Just be sure you're comfortable giving up editorial control because our journalists are dogged and will follow the story through to the conclusion. The story will be published to our exacting standards, without regard for your preferred slant.
Want to contribute a story? We also accept article submissions — check out our writer's guidelines here.