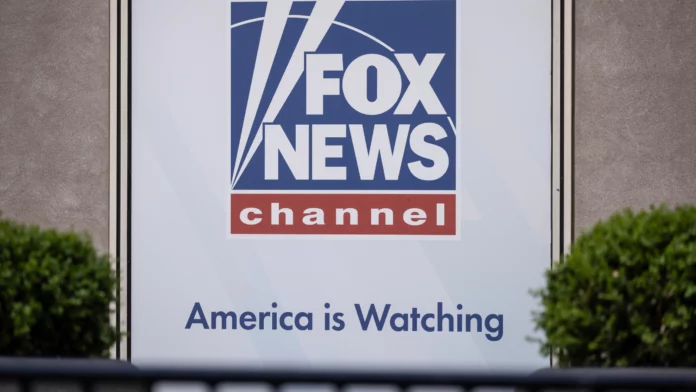 Written by Samuel A. Lopez, Legal News Reporter for USA Herald
Fox Corporation and Dominion Voting Systems have settled a $1.6 billion defamation lawsuit for $787.5 million, just as the trial was scheduled to begin in Delaware. The settlement puts an end to Dominion's lawsuit, which accused Fox News Network and its commentators of relentlessly pounding on allegations that Dominion's voting machines were at the center of a vast conspiracy to steal votes from former President Donald Trump and hand them to his Democratic challenger, Joe Biden, during the 2020 presidential election.
The settlement amount represents roughly half of what Dominion sought at trial, and is equal to 65.3% of the net income attributable to Fox Corp. stockholders for the fiscal year that ended June 30, 2022. In a statement, Fox News Media said it was "pleased" to have reached a settlement and hoped that avoiding "the acrimony of a divisive trial" would allow "the country to move forward."
Dominion's CEO, John Poulos, called the settlement "historic" and said it showed that "lies have consequences." Dominion's counsel, Justin A. Nelson of Susman Godfrey LLP, said the settlement "represents vindication and accountability" for the company, which had sought compensatory and punitive damages that, depending on valuations of Dominion, could have pushed an award even farther into the billions.
Fox Still Faces Other Defamation Lawsuits
The settlement with Dominion does not end Fox's legal troubles. The company still faces an even larger, $2.7 billion damage claim brought by voting tech company Smartmatic USA Corp. in New York state court. Fox Chairman Rupert Murdoch, his son Lachlan, and a string of Fox News commentators and news figures were scheduled to testify in the Dominion case.
Judge Eric M. Davis of Delaware Superior Court rejected Fox's arguments that it was protected by neutral or fair reporting privileges in a decision on motions for summary judgment on March 31. The judge also found that statements challenged by Dominion were defamation per se, and rejected Fox Network arguments that Dominion was not entitled to punitive damages.
Fox Acknowledges False Claims
In its statement, Fox News Media acknowledged the Court's rulings finding certain claims about Dominion to be false. The company had countered that statements carried on its programs "were proper reports to the public on a matter of the utmost public concern — allegations of election fraud by a sitting president and his legal team in connection with their efforts to overturn the results of a presidential election. FNN did not report the allegations as true."
Dominion's Representation
Dominion is represented by Susman Godfrey LLP, Farnan LLP, Clare Locke LLP, Vermont Law and Graduate School in this case.
Fox's Representation
Fox News and Fox Corp. are represented by Winston & Strawn LLP, Clement & Murphy PLLC, Lehotsky Keller LLP, and Richards Layton & Finger PA, while Fox Corp. is additionally represented by Ellis George Cipollone O'Brien Annaguey LLP.
In Conclusion
The settlement with Dominion marks a significant legal victory for the voting technology company. The settlement amount is also a significant hit for Fox, which had to acknowledge the falsity of some of its claims about Dominion. The settlement puts an end to the lawsuit but not to Fox's other legal battles, including the $2.7 billion defamation suit brought by Smartmatic USA Corp.