Also working to this end is Coach G, played by James Levon Nichols II.
In addition to Rip and Coach G, Good Werks introduces us to married couple Michelle and Howard (played by Rachel Christianson and Colin A Borden), who appear to be on the outs with one another.
Next up are Dylan Harris' Clay, Chas Laughlin's Gerald, and Mair Mulroney's nun Cerri.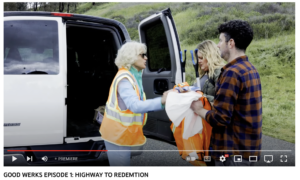 Highway to Redemption combines humor and relatability, thus inspiring curiosity as viewers watch the characters interact with one another and share pieces of their backstories.
There's still much to learn about Michelle, Howard, Clay, Gerald, and Cerri, namely how they ended up having to do community service. We also need to see what lies ahead for Rip and Coach G, as well.
Stay tuned
The first episode of Good Werks is now available for streaming on the Good Werks Productions YouTube channel.
Viewers will need to stay tuned for additional episodes to learn more about these fascinating characters, their backstories, and the impacts community service will have on them.