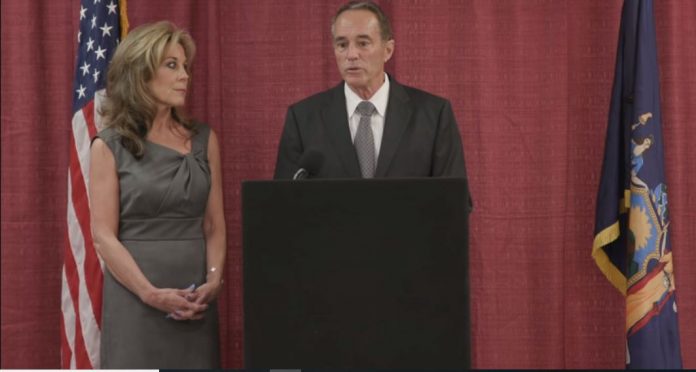 Republican U.S. Representative Chris Collins decided to suspend his campaign for re-election as he fights insider trading charges.
In a statement Saturday, Collins said, "After extensive discussions with my family and my friends over the last few days, I have decided that it is in the best interests of the constituents of NY-27, the Republican Party and President Trump's agenda for me to suspend my campaign for re-election to Congress."
In addition, the embattled Republican lawmaker stated that he will continue serving in Congress until the end of his term. He also reiterated that the allegations against him are "meritless" and said he will fight to clear his name.
The embattled Republican lawmaker completely changed his position from a few days ago when he vowed to "remain on the ballot."
Allegations against Collins
On Wednesday, federal prosecutors filed criminal charges against Collins, his son Cameron Collins and another defendant named Stephen Zarsky. The charges against them included insider trading, conspiracy, securities fraud, wire fraud and lying to the FBI.
The lawsuit against Collins and the other defendants was related to the securities of Innate Immunotherapeutics, which was developing a drug for multiple sclerosis.
According to the indictment, in June 2007, Collins received non-public information about clinical trial results for the drug for multiple sclerosis. He learned that the drug trial results were "clinical failure." At the time, he was a member of the company's board of directors.
Collins immediately passed on the information to Cameron, who also conveyed it to Zarsky and other people. Cameron, Zarksky and others sold shares of Innate Therapeutics based on the insider information and avoided losses totaling approximately $768,000.
The three defendants pleaded not guilty to the charges against them.
During a press conference on Wednesday, Collins said, "I will mount a vigorous defense in court to clear my name. I look forward to being fully vindicated and exonerated."
New York GOP Chairman Ed Cox commented, "No one is above the law, but Chris deserves his day in court and we will wait to see what unfolds."