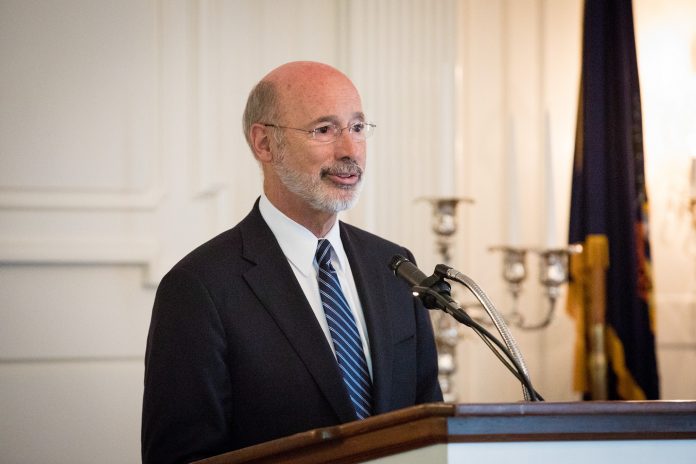 Pennsylvania Gov. Tom Wolf is proposing more than $1.1 billion budget to fix schools, daycare centers, homes and public water systems contaminated with asbestos and lead across the state.
The governor unveiled his proposal as several school districts in Philadelphia and Scranton are facing a growing problem regarding the unsafe levels of asbestos and lead in their buildings.
In a statement, Gov. Wolf said, "Decades ago, well-intentioned Pennsylvanians constructed our homes, schools, waterways, and other structures out of asbestos and lead because they were thought to be harmless, even superior materials."
"Now we know the serious harm both can cause. To build a better Pennsylvania, we first need to fix our foundation, which is why the five lead and asbestos removal initiatives I'm outlining today are so important," he added.
Pennsylvania State Sen. Vincent Hughes agreed that a significant part of the state is toxic and unsafe due to asbestos and lead contamination. He said, "Our homes, childcare centers, and schools suffer from serious disrepair and long-term neglect. Thank you, Gov. Wolf, for making a significant financial commitment to clean up these vital, necessary and fundamental places in our community. We intend to win on your proposal and to use that victory to propel us to a long-term even more robust investment."
On the other hand, State Rep. Jason Dawkins said, "Our children deserve to learn and our teachers deserve to teach in schools that don't make them sick.  But for far too long, our children, teachers and anyone else who has entered school buildings in Philadelphia have literally taken their own lives in their hands. Why? Because often lead and asbestos were lurking inside."
Gov. Wolf's plan
Gov. Wolf wants to use grants from the Redevelopment Assistance Capital Program (RACP) to remediate aging and toxic school buildings that are causing health problems.
The Pennsylvania Office of the Budget is administering RACP, a commonwealth grant program for the acquisition and construction of regional economic cultural, civic, recreational, and historical improvement projects.
Additionally, Gov. Wolf wants to leverage the Children's Health Insurance Program (CHIP) Services Initiative to improve the health of children and families in Pennsylvania by increasing funding for remediation activities in places where children have been exposed to high levels of lead.
Furthermore, the governor plans to transfer PENNVEST Grant Funds (up to $90 million) to address a threat to public health due to the increased exposure to lead in drinking water. Specifically, he wants to provide grants for lead service line replacement statewide.
Moreover, Gov. Wolf wants to convene all recipients of the Lead-Based Paint Hazard Reduction Program Grant to ensure collaboration in the implementation of a project from the Department of Health.
He also wants to implement the Environmental Protection Agency's (EPA) Lead Testing in School and Child Care Program Drinking Water Grant if awarded to Pennsylvania.