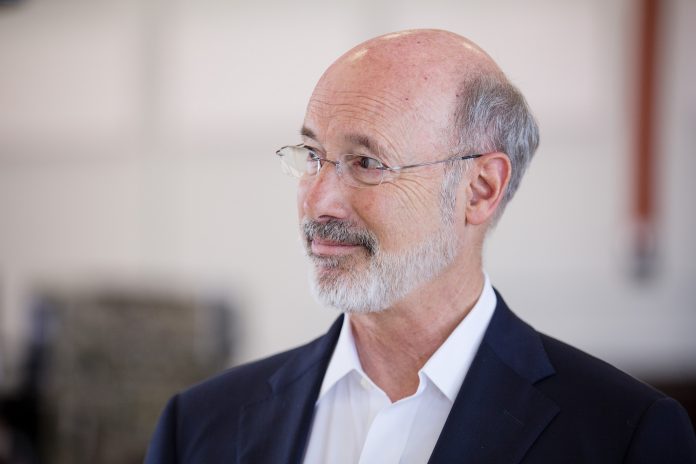 Pennsylvania Governor Tom Wolf is proposing a severance tax on extracting natural gas to raise funds for new infrastructure developments.
On Thursday, Wolf announced Restore Pennsylvania, a new major infrastructure initiative, which will invest $4.5 billion on high impact projects statewide over the next four years. He wants the state to become a leader in the 21st century in terms development, infrastructure, and technology.
According to the governor, Restore Pennsylvania will obtain funding from revenues on commonsense severance tax.
Pennsylvania's natural gas production is around 18 billion cubic feet per day (bcfd), the second largest in the United States. However, it is the only state without a severance tax on extracting natural gas. Over the past two years, the state legislature rejected proposals to impose severance tax.
"It is far past time that Pennsylvanians stop allowing our commonwealth to be the only state losing out on the opportunity to reinvest in our communities," said Wolf.
In addition, the governor stressed, "And as long as that is allowed to continue – my vision of a restored Pennsylvania that is ready to compete in the 21st century economy will never become reality."
Five priority infrastructure projects under Restore Pennsylvania
Restore Pennsylvania aims to address five priority infrastructure areas including:
High speed internet access—completely bridging the digital divide in every community across the state
Storm preparedness and disaster recovery—providing funding for cities and towns to build, upgrade, or replace critical flood control infrastructures such as high-hazard dams, flood walls and levees.
Providing funding for downstream manufacturing, business development, and energy infrastructure
Demolition, revitalization, and renewal—providing financial resources to demolish and redevelop blighted buildings (commercial, industrial, and residential), continue Brownfield clean-up, contamination remediation, and build new environmental projects and recreational opportunities.
Transportation capital projects
Several state lawmakers support Restore Pennsylvania
Representative Jake Wheatley, the Chairman of the Pennsylvania House Finance Committee, said the Wolf is proposing a "reasonable severance tax with exciting ideas to maximize our investment." He agreed to be one of the sponsors of legislation to make the governor's vision a reality.
On the other hand, Pennsylvania State Senator John Yudischak, commented, "Restore Pennsylvania is a bold and innovative plan to inject billions of dollars into infrastructure projects across the commonwealth through a fair severance tax."
Meanwhile, Sen. Tom Killon, said, "We can no longer afford to lose billions of dollars by not having a sensible severance tax on drillers…Let's finally get this done for Pennsylvania's families."