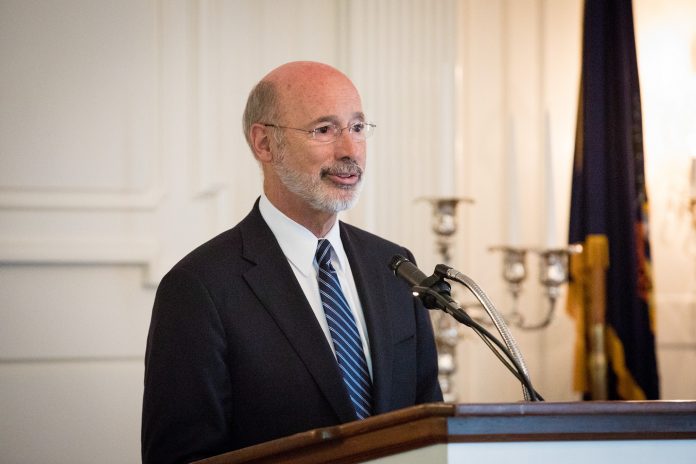 Governor Tom Wolf is taking actions to improve Pennsylvania's charter school law, which is considered one of the worst in the United States.
On Tuesday, Gov. Wolf presented his vision to improve charter school quality and improve outcomes for students. He also outlined his plan to strengthen charter and cyber charter school accountability and transparency to control costs.
The Governor decided to take immediate actions due to concerns regarding the limited authority of school districts and the state government to hold charter and cyber charter schools accountable.
The poor academic performance of some charter schools and the report from Stanford University showing overwhelming negative results from Pennsylvania cyber schools was also a serious concern for Gov. Wolf.
Gov. Wolf says Pennsylvania's existing charter school law is "unfair"
In a statement, the Governor said, "Pennsylvania's charter school law is unfair for students, parents, school districts, and taxpayers. While many charter schools are succeeding, others, especially some cyber charter schools, are underperforming and we are not doing enough to hold them accountable to the taxpaying public and the children they serve."
Additionally, Gov. Wolf said he will implement "comprehensive charter school reform through executive action, regulation and legislation." The changes will level the playing field for all taxpayer-funded public schools…"
Executive action
The Governor ordered the Pennsylvania Department of Education (PDE) to develop regulations to:
Allow school districts to limit student enrollment at charter schools that do not provide a high-quality, equitable education to students.
Require transparent charter school admission and enrollment policies that do not discriminate based on intellectual or athletic ability, race/ethnicity, gender, or disability, among other student characteristics.
Hold charter schools and their operators to the same transparency standards as school districts since they are receiving over $1.8 billion in funding annually
Require that charter school Board of Trustees and operating companies are free from conflict of interests. Prohibit them from making decisions that provide financial incentives to themselves, friends, and/or family members.
Require charter schools to use sound fiscal management, provide regular financial audits to state regulators, publicly bid contracts for supplies and services, use fair contracting practices, and engage their communities.
Provide greater oversight over charter school management companies.
Establish a model state application to start a new charter school or renew an existing charter school.
Establish a clear process that requires charters to accurately document their costs.
Prevent charters from over charging districts and taxpayers for the educational services they provide.
Initiate a fee-for-service model to cover the department's costs associated with implementing the charter school law.
Recoup taxpayer costs for thousands of hours of currently free services that the Department provides to charter schools.
 Comprehensive Charter School Reform Legislation
Gov. Wolf is proposing comprehensive charter school reform legislation that will:
Establish performance standards that hold charter schools accountable for the educational outcomes of students and a moratorium on new cyber charter schools
Cap student enrollment in low performing cyber charter schools until outcomes improve.
Require charter management companies be subject to the Right to Know Act, State Ethics Act, and post employee salaries on PDE's website, similar to requirements already in place for public school districts.
Create fair, predictable, and equitable funding for school districts, including in the areas of special education funding and cyber charter tuition payments.
Establish a charter school funding commission to make recommendations on additional charter school funding reforms.