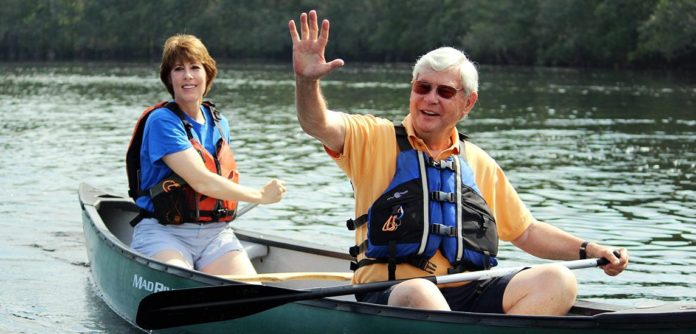 It's rare to find any Floridian who doesn't recognize the name of Bob Graham.
During his time as Florida's governor and U.S. Senator, Democrat Bob Graham presided over some of the most prosperous times in the Sunshine State's history. The man has several libraries, and one big bridge in Tampa, named after him.
Now, his daughter wants a turn.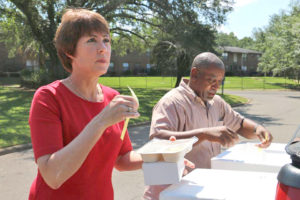 Former U.S. Rep. Gwen Graham announced her bid for Florida Governor last May. So far, she's leading the Democratic field, and is likely to make it to the general. This is despite several right-leaning votes she took while representing Florida's Second Congressional District (Tallahassee, Panama City). Such votes include favoring the Keystone pipeline, cutting Wall Street regulations, and tougher immigration restrictions.
She's acquired momentum through political connections, a solid donor base, a friendly and charming demeanor. Because of that, Graham seems locked in for the Democratic nomination.
In 2014, Graham's victory over former U.S. Rep Steve Southerland (R-FL) caused shockwaves throughout the political world. In the end, the vote came down to less than a percent.
"I am going to make sure that our Congress is not dysfunctional, but is willing to work together," an exhausted Graham said at her 2014 victory speech in Tallahassee.
Back then, her message was all about common-sense bipartisanship and getting things done for the people of North Florida. She focused greatly on building useful coalitions in Congress, especially between the other panhandle representatives.
Graham did not run for re-election in 2016 due to a redistricting which heavily favored Republicans in her district. Retired Panama City urologist Neal Dunn (R-FL) succeeded her as Congressman.
Her refusal to run again despite a sizeable war-chest began the rumors that she would seek a run for Governor in 2018.
Of course, we live in the era of Donald Trump, where anything can happen.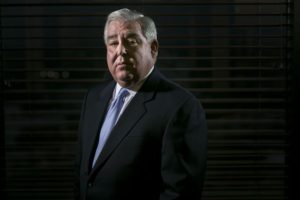 One person in particular, Orlando attorney John Morgan of Morgan & Morgan is rumored to be considering a gubernatorial run. The legal mogul has been an active voice within Florida politics, choosing to spend time and capital on ballot initiatives like Amendment 2 last year. The passage of his provision opened the medical marijuana floodgates in Florida.
Morgan is an out-spoken, brash, and very likeable character – similar to the President. A run from him could spell doom for Graham, someone heavily associated with the Democratic establishment.
As far as Democrats go, the primary here in Florida is reflective of what's going on nationwide. Outsiders and establishment candidates can quickly come to equal footing and tumultuous blows.
Moderate Democrats are making a stand against the far left. Democrats used to be the party of traditional liberalism. Now, black masks and pubic hats have hijacked their message.
Candidates like Tallahassee Mayor Andrew Gillum try to tap into the fascist fervor which has sparked violent flashpoints throughout the country in recent months. It is not only irresponsible, it is dangerous.
Republicans endured a similar phenomenon last year. The end-result was Trump's taking of the Republican nomination for President over all the political elites who ran against him.
As for Graham, her path to the general election seems secure at this point. Of course, it's still very early. In many ways, her clear path looks similar to Jeb Bush's at the outset of the 2016 presidential race.