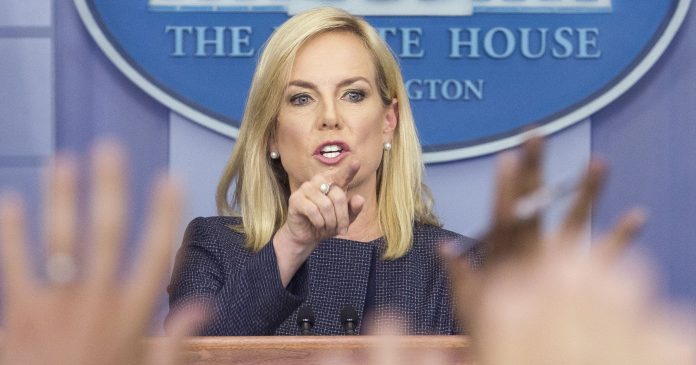 The Department of Justice and the Trump Administration are facing heavy criticism this week. The administration recently adopted a policy of zero tolerance for illegal immigrants. Under the policy, adults who are caught enter the custody of U.S. Marshals. Children go to the Department of Health and Human Services.
This is a change in policy as the Obama administration kept families together until their civil deportation proceedings.
Under Trump's policy, authorities separated 2,300+ minors from their adult guardians in the last month.
Nielsen's action wouldn't end the zero tolerance policy, but would aim to keep families together and ask the Department of Defense to help house the detained families.
Amending the Policy
Kirstjen Nielsen is the Secretary of Homeland Security. She is working on an executive action she believes President Trump will sign into law soon. The action would not loosen immigration control but would allow families to remain together until the department deports them.
Trump agreed that the goal is to keep families together while keeping strict control over immigration.
Laws Pertaining to Child Immigrants
In the 1980's case of a teenage girl named Flores, the courts ruled that the government must release children into the custody of their parents or other guardians. In 2015, a case in Los Angeles expanded the rule. Now, the government must release children to their parents even if their parents are apprehended as illegal immigrants.
Again, in 2016, another court ruled that children cannot remain in detention. The government must release them to their parents. The problem is that none of these laws state the parents cannot be held for processing. The confusion is what to do with children when their parents are in custody. How do we take a hard line against parent offenders while treating the children compassionately?
Nielsen hopes to find that middle ground with her proposed executive action.
New Congressional Action
Trump is calling on lawmakers to propose new laws for dealing with illegal immigrant families. He says, though, that this will be a problem for Congress. He says Democrats want to have open borders while Republicans want tighter security. Hopefully, both parties can come to an agreement about what to do with the children and their parents while they are in custody.