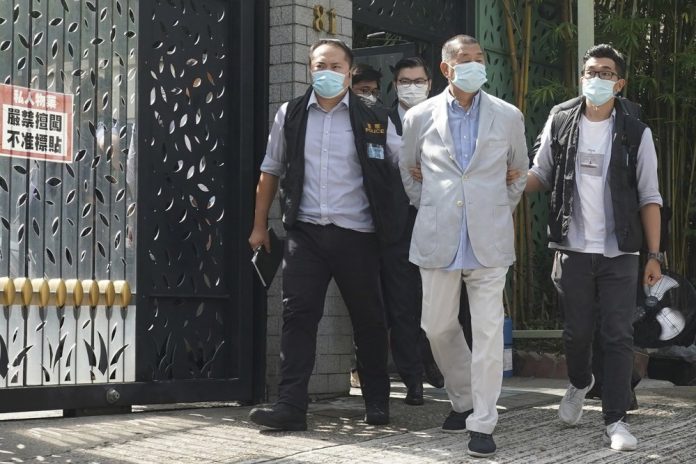 Hong Kong authorities raided Next Digital's headquarters and arrested media tycoon Jimmy Lai on Monday under the pretext of a new controversial national security law enacted by the Chinese government.
The arrest has been viewed as a region-wide crackdown on the autonomous free press which has been at odds with the totalitarian government in Beijing.
In addition to Jimmy Lai's arrest, pro-democracy activist Agnes Chow-Ting was arrested on charges of inciting 'succession' per the national security law.
Far from coincidental, Lai's Next Digital outlet owns Apple Daily, a publication with a track record of vociferously criticizing the Chinese government for anti-democratic behavior. Lai was not the only individual arrested at Next Digital, two of his sons as well as several company officers were also arrested by authorities.
Following the arrest, Next Digital issued a statement saying "Raiding a news institution is a severe attack on press freedom and should not be tolerated in a civilized society," further adding "Hong Kong's press freedom is now hanging by a thread, but our staff will remain fully committed to our duty to defend the freedom of the press."
Lai's arrest and the searching of Next Digital has drawn criticism from pro-democracy advocates in Hong Kong as well as major western nations, including the U.K. The British Government has openly condemned the action saying that authorities are using the law to crush any form of dissent.
Secretary of State Mike Pompeo issued a tweet on the arrest saying that he was "deeply disturbed" by Lai's arrest, claiming it as proof that China has "eviscerated Hong Kong's freedoms and eroded the rights of its people."
I'm deeply troubled by reports of the arrest of @JimmyLaiApple under Hong Kong's draconian National Security Law. Further proof that the CCP has eviscerated Hong Kong's freedoms and eroded the rights of its people.

— Secretary Pompeo (@SecPompeo) August 10, 2020
On the same day as Lai's arrest, China issued 11 sanctions against specific individuals in the U.S., including Congress members as retaliation for U.S. sanctions of Hong Kong and mainland Chinese officials.
According to Mark Simon, an aide to Lai and Next Digital executive, the tycoon has been charged for colluding with foreign powers. Over 200 police officers raided Next Digital headquarters, leaving with 25 boxes of 'evidence' for processing. It remains unclear as to what authorities were looking for in the raid.
Authorities hand picked 15 media outlets to cover the raid while foreign outlets, including the Associate Press, were barred from covering the story.
The raiding of Next Digital HQ marks a long line of nefarious behavior on the part of the Chinese government.
Just last week, officials in the Chinese city of Rugao raided China-based Saleen Automotive, seizing intellectual property and arresting personnel.
It remains to be seen how the Trump Administration will respond to the raid with tensions already increasing over a potential TikTok ban and sanctions.
————————————————–
Have a story you want USA Herald to cover? Submit a tip here and if we think it's newsworthy, we'll follow up on it.
Want guaranteed coverage? We also offer contract journalism here.  Just be sure you're comfortable giving up editorial control, because our journalists are dogged and will follow the story through to it's conclusion. The story will be published to our exacting standards, without regard for your preferred slant.
Want to contribute a story? We also accept article submissions — check out our writer's guidelines here.