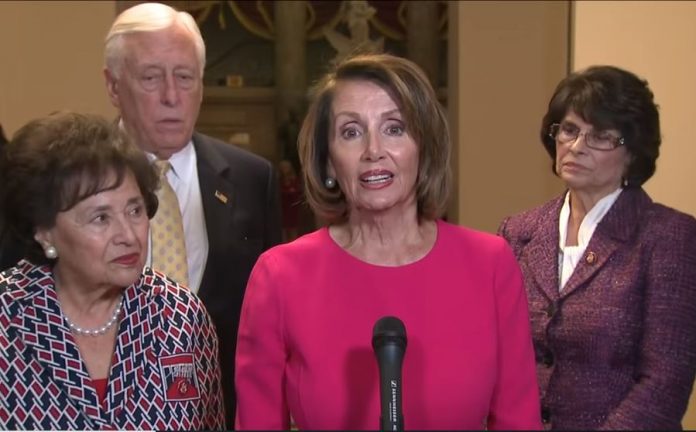 The U.S. House of Representatives, now controlled by Democrats, passed a legislative package to end the partial government shutdown. However, there is no guarantee of its passage in the Republican controlled Senate.
President Donald Trump is expected to veto the legislation because it does not include funding for the border wall. The president is demanding $5 billion in border wall funding.
In a statement, the White House said Trump "cannot accept legislation that provides unnecessary funding for wasteful programs while ignoring the nation's border security needs.
House-passed spending bills are "Senate Republican appropriations"
In other words, the spending bills are expected to be dead on arrival in the upper chamber.
On Wednesday, Senate Majority Leader Mitch McConnell (R-Kentucky) said he will not bring to the floor any measure that Trump opposes. According to him, "The Senate will not waste its time considering a Democratic bill, which cannot pass the chamber and which the president will not sign."
Rep. Nancy Pelosi (D-California) explained that the legislation to end the shutdown were "based on actions taken by the Republican Senate. Those bills passed on the Senate floor by over 90 votes.
On Thursday, Pelosi reiterated that the spending bills are "Senate Republican appropriations legislation to re-open the government." She made the statement in her remarks after reclaiming her role as House Speaker.
The House approved a continuing resolution to fund the Department of Homeland Security (DHS) until February 8. It does not including any funding for the border wall. Five Republican voted with Democrats and the legislation passed by 239-192 votes.
The lower chamber also passed legislation to fund eight federal government agencies until September 30.
Pelosi says a wall is "an immorality"
During a press conference, Pelosi stressed, "A wall is an immorality. It's not who we are as a nation. And this is not a wall between Mexico and the United State that the president is creating here. It's a wall between reality and his constituents, his supporters. He does not want them to know what he's doing to Medicare, Medicaid, and Social Security in his budget proposal…He does not want them to know how he is hurting them so he keeps the subject on the wall. He's a master of diversion."
"We're not doing a wall…It has nothing to do with politics…It's an old way of thinking. It isn't cost-effective and the fact is…there are things we could be doing at the ports of entry…If you want to detect drugs as we all do, then there's technology that can scans these cars coming through…So there's so many things we can be doing to maintain who we are as a country…," said Pelosi.