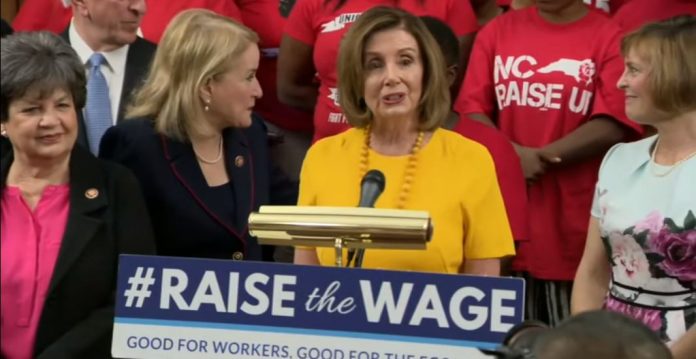 The U.S. House of Representatives passed a bill to raise the federal minimum wage to $15 per hour, which will benefit millions of low-wage workers across the country.
On Thursday, the House voted 231-199 for the passage of the Raise the Wage Act, which will gradually increase the current federal minimum wage of $7.25 to $15 per hour by October 2025.
The legislation will then index future increases in the federal minimum wage to median wage growth. In addition, it will phase out the sub-minimum pay for tipped workers and teen worker to ensure that they receive at least the full federal minimum wage.
Furthermore, the Raise the Wage Act eliminates the sub-minimum wage certificates for workers with disabilities, giving them the opportunity to be competitively employed and fully participate in their communities.
Raising the federal minimum wage is a victory for workers
According to the Economic Policy Institute (EPI), around 33.5 million workers across the country will benefit from the legislation. By 2025, low-wage workers will see their wages increase by $2,800 annually.
In a tweet, the EPI said the passage of the Raise the Wage Act in the House is a "victory" that "belongs to workers—starting with the fast food workers who first walked off their jobs in 2012. This is a historic step forward, but we can't and won't stop fighting until a living wage is a reality for every worker! #FightFor15."
In a statement, Democratic Rep. Bobby Scott of Virginia, the author of the legislation and Chairman of the House Committee on Education and Labor, commented, "Today, House Democrats took a major step toward raising wages for up to 33 million American workers. After more than 10 years with no increase in the federal minimum wage – the longest stretch in history – the minimum wage is now a poverty wage everywhere in America. The Raise the Wage Act reflects the basic idea that hardworking Americans working full-time should not live in poverty."
"But the Raise the Wage Act is not only good for workers; it is good for the economy. When we put money in the pockets of workers, they will spend that money in their local economies. Gradually increasing the minimum wage to $15 by 2025 will stimulate economic growth, particularly in struggling communities," added Rep. Scott.
Sen. McConnell will not bring the legislation for a vote in the Senate
It is highly unlikely that the Raise the Wage Act will become a law before the 2020 presidential election.
Senate Majority Leader Mitch McConnell (R-Kentucky) expressed his intention to shelve the legislation citing the reason that it will slow down the country's economic growth.
In an interview with Fox Business Network on Thursday, Sen. McConnell said the bill will "depress the economy at a time of economic boom." He added, "We're not going to be doing that in the Senate."