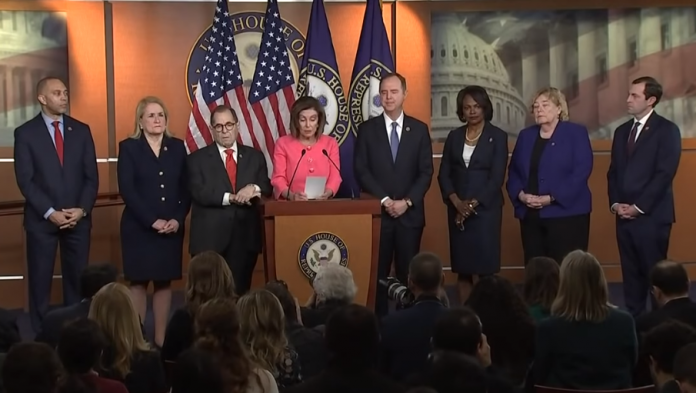 House Democrats released new materials from Lev Parnas on Friday, ahead of the Senate impeachment trial of President Donald J. Trump.
Parnas is a Ukrainian-American businessman and a close associate of Rudy Giuliani, Trump's personal lawyer. He was indicted for allegedly violating the ban on foreign donations and contributions in connection with federal, state and elections to gain political influence.
The new evidence from Parnas included pictures of him posing with Trump, text messages regarding efforts to surveil former U.S. Ambassador to Ukraine Marie Yovanovitch and his communications with an aide to Rep. Devin Nunes (R-CA).
House Democrats included Parnas' documents in the evidentiary record along the articles of impeachment transmitted to the Senate for the trial. They also included into the evidentiary record transcripts of his interviews with CNN's Anderson Cooper and MSNBC's Rachel Maddow this week.
During the interviews, Parnas said Trump knew all about his efforts to pressure Ukraine for political favors—in particular, to announce an investigation into former Vice President Joe Biden and his son Hunter. He told Maddow, "I wouldn't do anything without the consent of Rudy Giuliani or the President."
In a statement, a Democratic official working on the impeachment trial, said, "The documents provided today were part of large trove of documents and materials, including additional text messages and photos, produced to the Intelligence Committee by Lev Parnas in the last week pursuant to an October 10, 2019 subpoena. The Committee's review of these materials is ongoing,"
Parnas and Giuliani are key figures in the Ukraine scandal, which ignited the impeachment of Trump. House Democrats impeached the President for abusing the power of his office and obstructing Congress' investigation into his dealings with Ukraine.
Senate Republicans considering a speedy impeachment trial
Meanwhile, Senate Republicans are considering rules to speed up the impeachment trial. They are discussing using trial rules that would limit the number of days for the opening arguments of both House impeachment managers and Trump's legal team.
During an interview with Fox News in Friday, Sen. Ted Cruz (R-TX), said, "We're going to give both sides a full and fair opportunity to present their case. … Phase one is going to be the opening arguments from the House managers and from the White House. Each will have 24 hours spread out over two days to present the arguments they want."
On the other hand, Sen. Thom Tilles (R-NC) told reporters that the idea of limiting the time for the opening arguments is under discussion. He said, "I'll be interested to see whether or not that gets elongated over a few days, but I think the going in posture is two, 12 hour periods."