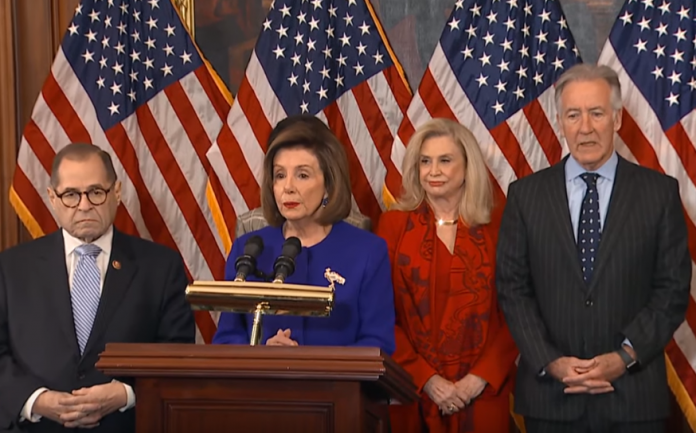 House Democrats announced two articles of impeachment against President Donald Trump during a press conference on Tuesday morning.
They accused the Pres. Trump of abusing the power of his office for personal benefits and compromising the national security of the Unites States.
House Democrats also charged the President of obstruction of Congress by directing the defiance of House subpoenas seeking documents and testimonies vital to the impeachment inquiry.
The move comes after weeks of closed-door and public hearings into Pres. Trump and his allies' interactions with Ukraine. He is the third President to be impeached in the history of the United States.
During the press conference, House Speaker Nancy Pelosi (D-California) reiterated that they have to carry out their solemn duty to "protect and defend the Constitution."
House Democrats say Pres. Trump endangers national security
On the other hand, House Judiciary Committee Chairman Jerrold Nadler (D-New York) emphasized that the Pres. Trump abused his power by soliciting foreign interference in U.S. elections. Nadler said the President's action threatened U.S. national security and the integrity of the country's elections. He added that the President attempted to conceal the evidence from Congress and the American people.
"Our President holds the ultimate public trust. When he betrays that trust and put himself before country, he endangers the Constitution. He endangers our democracy and he endangers our national security," said Chairman Nadler.
He added that the "framers of the Constitution prescribed a clear remedy for Presidents who violate their oath of office and that is the power of impeachment."
Chairman Nadler said the House is charging the Pres. Trump with "committing high crimes and misdemeanors" for abusing the power of the presidency when he solicited and pressured Ukraine to interfere in the 2020 elections and obstruction of Congress for "engaging in unprecedented, categorical and indiscriminate defiance of the impeachment inquiry."
The House Judiciary Committee will vote on the articles of impeachment later this week, according to Chairman Nadler.
House Intelligence Committee Chairman Adam Schiff (D-California) commented, "We stand here today because the president's continuing abuse of his power has left us no choice. To do nothing would make ourselves complicit in the president's abuse of his high office, the public trust and our national security."