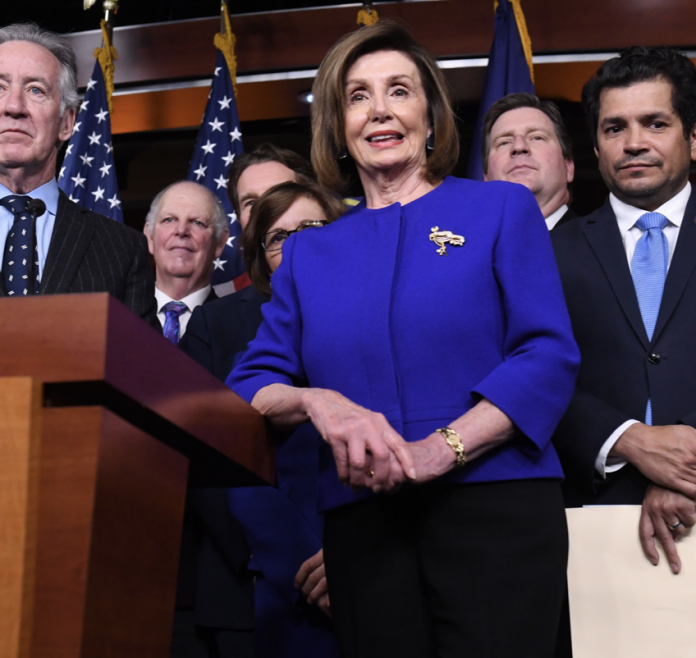 Moments ago, the Trump administration and House Democrats reached an agreement on the United States/Mexico/Canada (USMCA) trade deal. The agreement comes after a considerable wait on the end of House Democrats. In recent weeks, the president called upon Pelosi to act accordingly on the deal.
After House Democrats announced their articles of impeachment against President Trump, Americans learned about the success of the USMCA deal.
Everything You Need to Know About the USMCA Trade Deal
The trade deal is set to positively impact farmers and other working Americans.
Unlike NAFTA, the USMCA ensures that at least 75% of automobile parts are produced in the United States, Mexico, and Canada. This will subsequently prevent needless tariffs. Workers also get an additional win; under USMCA, employees earning at least $16.00 per hour will create 40-45% of automobile components by 2023.
Protection of international markets for Americans, 176,000+ new jobs, and a $4.6 billion dollar investment into this nation's auto industry are additional benefits linked to the USMCA trade deal.
What Happens Now?
The mutual agreement on USMCA marks a major milestone; however, the work isn't over yet. The United States, Mexico, and Canada must each ratify USMCA. At this time, House Democrats will projectively vote on the deal as early as next week. Since Congress breaks for the holidays on December 20, America's ratification of USMCA might not occur until 2020.
Statements from Republicans and Democrats
Politicians on both sides of the aisle shared positive remarks regarding USMCA. During a press conference, House Speaker Nancy Pelosi stated that this trade deal is "much better" than NAFTA. Many conservatives agreed with her, although noted that the work of President Trump enabled USMCA's success.
Nancy Pelosi says that #USMCA is "much better than NAFTA."

None of this would have ever been possible without the leadership of President @realDonaldTrump!#PromisesMadePromisesKept pic.twitter.com/yWkYb2Cr4e

— Team Trump (@TeamTrump) December 10, 2019
Republicans, while favoring the USMCA, also called out Democrats for the articles of impeachment which they brought against Trump earlier this morning.
Instead of the stupid, highly partisan impeachment sham, House Dems should have issued statement praising @realDonaldTrump for getting USMCA. Dems wasted months delaying but make no mistake it's @POTUS who made this happen. Thank U, Mr. President and let's vote Dems out in 2020.

— Gov. Mike Huckabee (@GovMikeHuckabee) December 10, 2019
The US-Mexico-Canada Agreement is a win for the American worker and has been since the day President Trump signed it over a year ago.

Dems delayed #USMCA for too long. But finally—after months of relentless advocacy from Republicans—we're one step closer.

My full statement ↓ pic.twitter.com/xuRuUjDiFH

— Kevin McCarthy (@GOPLeader) December 10, 2019
Conservatives additionally noted the irony of Democrats bringing impeachment articles against Trump on the same day of approving his trade deal.
Interesting timing by the Democrats. Impeach Trump on the same day you announce voting for USMCA?

— Chuck Woolery (@chuckwoolery) December 10, 2019
Despite mutual agreements on USMCA, Republicans and Democrats remain torn on which side deserves credit. Conservatives grant credit to the work of President Trump; progressives and others on the left, however, favor the work of Pelosi and House Democrats.