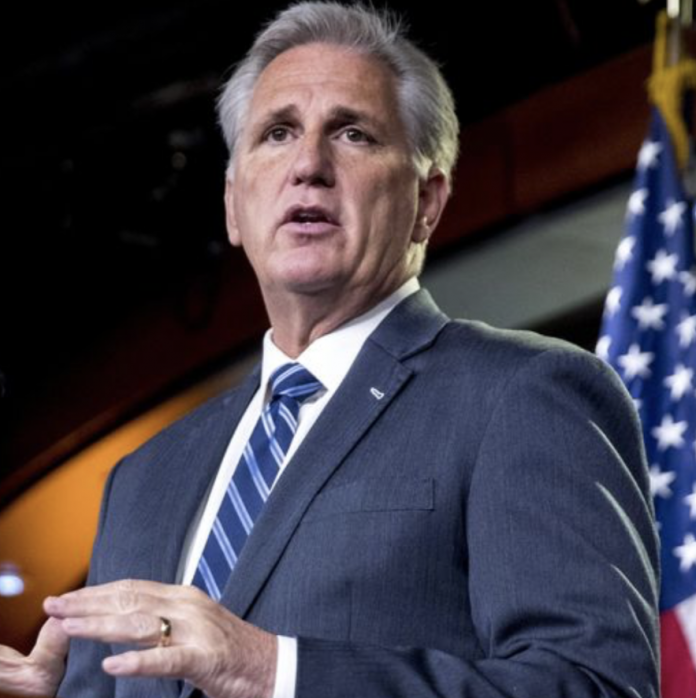 The passing of the new coronavirus stimulus bill could be only the beginning of COVID-19 legislation. Under the current legislation, families, workers, and entrepreneurs across the nation will get relief in the face of coronavirus; however, there are some lawmakers in Washington with an interest in putting forth new COVID-19 legislation…or so they claim.
Yesterday, House Minority Leader Kevin McCarthy gave an interview on Fox News Sunday. While doing so, the Leader explained that Speaker of the House Nancy Pelosi is eyeing the prospect of yet another coronavirus relief package. However, this particular package would focus on leftist proposals that are merely framed as COVID-19 aid.
A Closer Look at Leader McCarthy's Interview with Fox News Sunday
When host Maria Bartiromo asked McCarthy about the possibility of a fourth stimulus plan, the Leader stated that he didn't see the demand for it.
However, McCarthy also pointed out that he has concerns about Speaker Pelosi potentially pushing for one. In essence, McCarthy maintains that Pelosi sees a fourth package as a way to counteract Democrats' failure to include leftist policies in the most recent stimulus plan.
In his own words:
"it's because she didn't get in the things that she really wanted to change the election law; a Green New Deal, make us pay for Planned Parenthood, and expand what you're seeing for sanctuary cities." 
McCarthy also explained that delays with passing the latest COVID-19 relief bill pertained to Democrats trying to squeeze in the aforementioned measures. The House Minority Leader's statements come days after him criticizing Pelosi for alleging that Democrats did a "jiu-jitsu" to make changes for working families. According to McCarthy, 99% of the current stimulus plan remains what it was on March 22, 2020.
Will Democrats Manage to Obtain a Fourth Stimulus Plan?
At this time, the likelihood of Democrats getting a fourth stimulus plan appears low. For one thing, there are already relief measures in effect. Secondly, Republicans are not supportive of leftist measures that Democrats seek to include in another coronavirus relief package.
Since the inception of aid provision, Republicans maintained that COVID-19 bills must strictly pertain to economic relief, not partisan wins. Thus far, there is nothing indicating that Democrats and the GOP are aligned on a fourth stimulus plan.
Additional reports will follow if this changes.