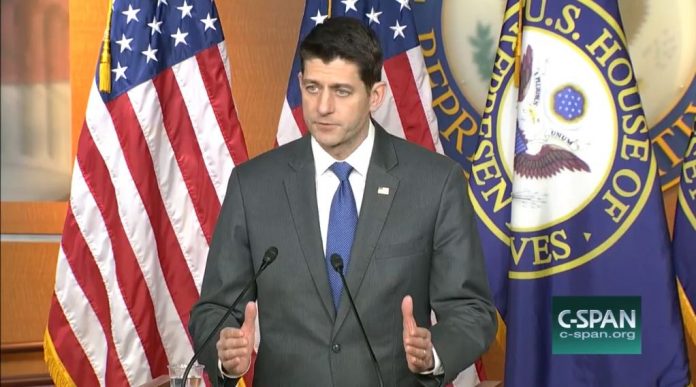 The U.S. House of Representatives easily passed a $1.3 billion compromise spending bill on Thursday. Legislators approved the 2,232 -page bill with 256-167 votes—less than 17 hours after its release to the public.
The spending bill includes huge funding increases for border security, infrastructure, national defense, school safety and mental health. It also provides significant funding to fight the opioid epidemic.
During a press briefing, House Speaker Paul Ryan said the spending bill provides the "biggest increase in military funding in 15 years." It offers the highest pay raise for troops in eight years. According to him, "We are rebuilding the American military and creating a 21st century fighting force."
Trump is happy with spending bill, border security funding
When asked about the funding for the border wall, Speaker Ryan emphasized that the bill will fund the government for six months. It provides more allotment for border security than the request of the Trump administration.
Speaker Ryan said the border patrol determined where physical barriers are necessary. "That's what we are funding here and we're getting a good head start on it," he said. He said President Donald Trump is "happy with it."
Under the budget bill, $1.6 billion is allocated for border security along the U.S.-Mexico border. It includes $251 million for "secondary fencing" near San Diego and $196 million for "primary pedestrian fencing" in the Rio Grande Valley. The border security budget also includes $45 million for the replacement for more than 25 miles of "levee fencing" and another $455 million for the replacement of fencing in Rio Grande valley.
In an interview with Fox News, Speaker Ryan reiterated that the spending bill "funds the wall, fixes military, and fights opioids."
In addition, he pointed out that the administration asked for 74 miles of border wall funding, but they provided for about 100 miles. "We actually exceeded what the administration asked us for the border," he said.
Furthermore, Speaker Ryan said the $1.6 billion border security funding for the next six month is "exactly what the President asked for."
In a tweet, Pres. Trump said he got $1.6 billion to start the wall on the southern border and $700 billion to rebuild the military. The President is obviously pleased with the spending bill.
Got $1.6 Billion to start Wall on Southern Border, rest will be forthcoming. Most importantly, got $700 Billion to rebuild our Military, $716 Billion next year…most ever. Had to waste money on Dem giveaways in order to take care of military pay increase and new equipment.

— Donald J. Trump (@realDonaldTrump) March 22, 2018
On Wednesday, the White House released a fact sheet indicating that the spending bill is "a win for the American people." It supports Pres. Trump's priorities to help and protect Americans.