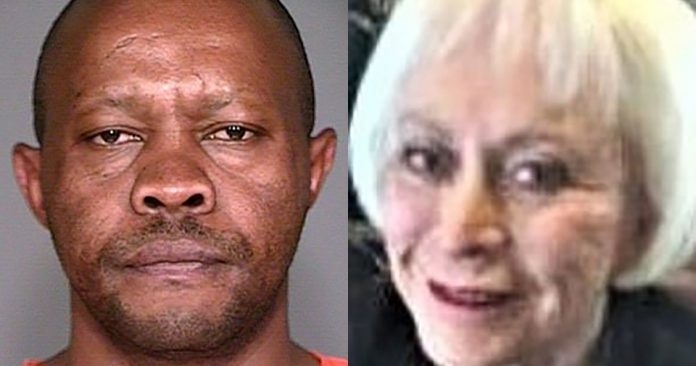 An illegal African immigrant living in the United States is accused of being a serial killer who smothered and robbed elderly residents of a healthcare facility where he worked.
Billy Chemirmir, a Kenyan national, was previously indicted and charged with murdering 12 elderly women and stealing their valuables and this week he was charged in three more murders, The Dallas Morning News reported.
On Tuesday the suspected serial killer was charged in the deaths of Joyce Abramowitz, 82; Doris Wasserman, 90, and Margaret White, 86, all of whom were murdered at The Tradition-Prestonwood senior living community in Dallas, Texas from July 2016 through December 2017.
Civil lawsuits and medical examiner reports have linked the illegal immigrant to seven more murders though he has yet not been formally charged.
After he was charged for the murders in March of 2018 detectives began investigating near 1,000 deaths of elderly women in nursing homes that have remained unsolved.
Phillip Hayes, told The Morning News that his client is the victim of circumstantial evidence and that prosecutors have been attempting to pin every unsolved murder on him.
"It seems like every unexplained death they come up with, they're pinning on him," he said. "If you look at all of it, it doesn't stand up."
The executor of White's estate and a close friend of the victim, Paul Wright, noticed that a lot of her fine jewelry, including her wedding ring, were missing from her apartment after she died.
"It's just a complete violation of trust. It's a complete violation of the family and friends of these people," Wright said. "We have to question how facilities are run."
The senior living community said that it relied on the expertise of medical examiners in ruling the deaths to be from natural causes and that that it "regards all our residents as family."
"Those rulings stood for more than 27 months," it said. "The Tradition-Prestonwood has cooperated with all the authorities and will continue to do so."
—————————————-
Have a story you want USA Herald to cover? Submit a tip here and if we think it's newsworthy, we'll follow up on it.
Want to contribute a story? We also accept article submissions – check out our writer's guidelines here.