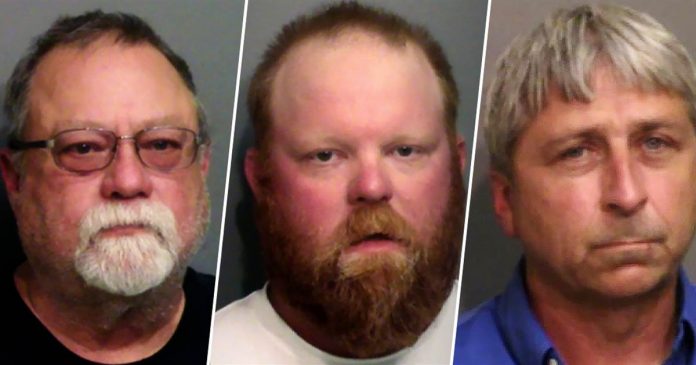 Cobb County District Attorney, Joyette M. Holmes announced today that indictments have been returned by a grand jury in the shooting death of Ahmaud Arbery.
Holmes was appointed in May by Attorney General Chris Carr to handle the prosecution — the fourth prosecutor to be assigned to the case.
All three defendants, Gregory McMichael, Travis McMichael, and William R. Bryan have been indicted on nine counts: Malice murder, felony murder (four counts), and aggravated assault (two counts).
Little attention initially paid
Arbery, a 25-year-old black man, was shot and killed by white residents of a coastal South Georgia neighborhood where he had been jogging.
No arrests were initially made and a prosecutor who was handling the case early on said that the men had acted within the scope of Georgia's citizens arrest statute, adding that the shooter had acted in self-defense.
The case received little attention until a video documenting the shooting was released and gained traction with celebrities and activists. The Georgia Bureau of Investigations eventually stepped in and took over the investigation.
The Black Lives Matter movement has highlighted dozens of cases over the past few months of people of color being victimized and killed by police and others without provocation, including video of a white woman calling the police on a black man who asked her to leash her dog.
Ahmaud Arbery seems to be only one in a long line of black men killed for going about their lives. The fact that the prosecution seemed to give little credence to the case sparked questions about racial profiling.
Charges filed and indictments returned
Aggravated assault charges and murder charges were brought against the defendants by the Georgia Bureau of Investigations. However, it was initially determined that a grand jury hearing would have to wait until COVID-19 restrictions were lifted.
Holmes commented in a press briefing that the Arbery family was "ecstatic" that a grand jury was able to come together and return indictments despite the ongoing COVID-19 restrictions.
She noted that the grand jury met in a different room than is normally used for hearings in order to properly socially distance themselves. Holmes also reported that masks were worn by jury members and hand sanitizer was available.
Holmes was asked whether her office would also be bringing hate crime charges against the defendants following the passing of Georgia's hate crime bill. She replied that those laws would not apply retroactively, but the state had information pertaining to hate crimes in this case, though she could not speak to what actions might be taken a later time.