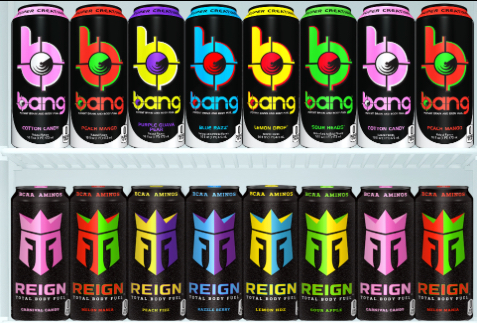 When Jack Owoc founded Vital Pharmaceuticals he didn't just want to compete in the sports supplement business, he wanted to crush it. Fast forward 25-years later and Owoc is finally getting his chance to stick it to the big boys, as his newest energy drink is garnering mass media attention.
Bang Climbing the Charts
Vital's best-selling product, Bang Energy is taking the country by storm. The drink has skyrocketed in popularity, becoming the fastest growing energy drink brand on the market. Monster is the leading energy drink product purchased by young adults, claiming 36% of the market. Yet, Bang recently doubled its market share from 3.5% of the market to 7% of the market and climbing.
Owoc claims customers prefer his product when compared to competitors because, ""it's more effective, tastes better, and doesn't contain harmful amounts of sugar and highly suspect ingredients like D-glucuronolactone contained in Monster."
Bang parent company Vital Pharmaceuticals recently purchased a new warehouse for an estimated $35 million. The 11.6-acre site will be key in ramping up the company's production of Bang and its other sports supplement products.
Monster Takes it to Court
While Monster energy continues to be the largest energy drink player in the industry, it has felt the heat of competitors like Bang. As the sales of Bang climb, so does the pressure on Monster to ensure its investors that its newest competitor is not a real threat. The only problem is, Bang clearly has the potential to overtake the energy drink market if given enough time.
With little ammunition left to thwart off Bang in the retail market, Monster decided to do what any good loser might, and sue. Monster claims Bang uses false advertising in its products, which leads to deception of consumers and, "anti-competitive business practices." The suit goes on to claim that Bang's marketing tactics list falsified benefits of its products.
Monster is also making an unfounded claim that a previous employee stole trade secrets before leaving the company and joining Vital as an employee. These claims are currently sitting in a US District Court in California, where both companies will plead their case.
Owoc Strikes Back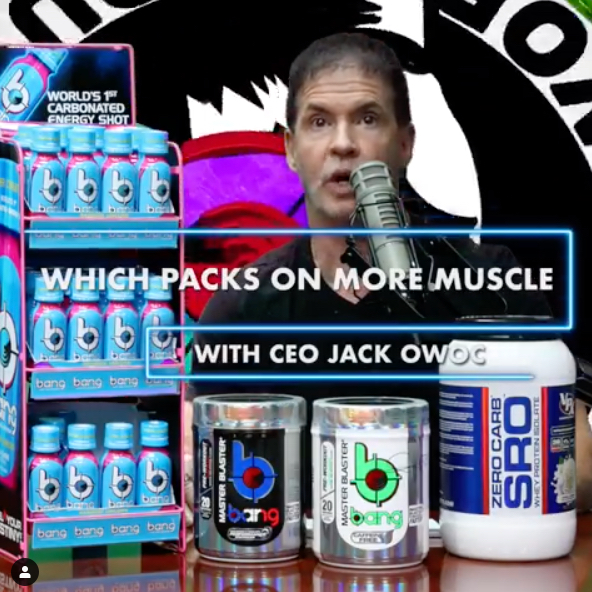 Instead of resting on its laurels, Owoc and Bang decided to fight back. When the news came across Owoc's desk he wasted no time not only defending his product, but taking a stand against Monster. "Bang has been proven to be safe and has been tested and proven effective in three double blind placebo controlled double blind studies," Owoc notes. "On the other hand, Monster Energy drinks have been associated with 17 deaths and adverse events too numerous to count."
Owoc thinks Monster is simply trying to push Bang out of a market which it is winning. "Monster is simply living up to its reputation of being an overly litigious 'bully' and employing scorched-earth tactics to deal with perceived competitors," Vital said in a statement. The company is extremely confident these claims will be dismissed in the court of law.
At the same time, Bang is suing Monster over what it deems as, "shamelessly copying" the Bang brand with Monster's new REIGN energy drink. It is blatantly evident to the naked eye that REIGN has copied the style and coloration of Bang's popular drinks in an attempt to confuse consumers as to the products they are purchasing. According to Owoc, this is "perhaps one of the most egregious examples of intellectual property infringement that consumers—and now the courts—have likely seen in the past decade!"
Owoc is Taking Over
Jack Owoc isn't just winning in the eyes of the public, he is taking it to the bank. Owoc and his wife Meg recently purchased a $7.7 million, six-bedroom, six-bathroom home with additional 2.4-acre lot. Owoc is also becoming a household name in the public eye. With over 125 thousand Instagram followers, people want to hear about his company's products and keep up to date with new releases.
While Monster and other energy drink company's attempt to curb the growth of Bang, Jack Owoc knows he has a winner on his hands, and is working to keep Bang growing for years to come.