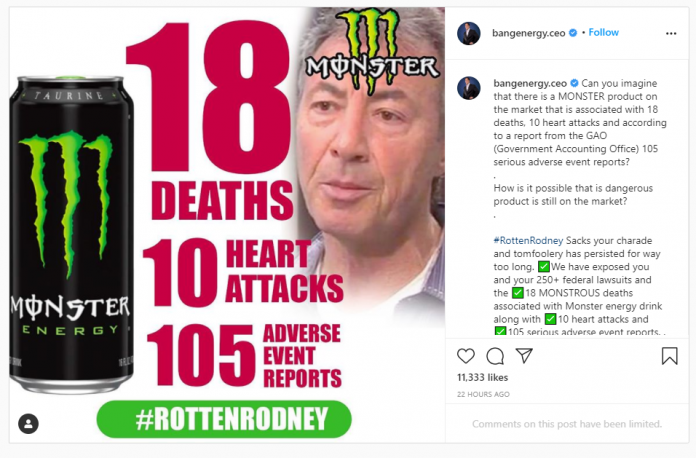 With a legal battle still raging between Monster and Bang Energy, Bang Energy CEO Jack Owoc has taken to Instagram to shift the battle to social media.
On Wednesday, Owoc called out Monster Energy in an incendiary post.
"Can you imagine that there is a MONSTER product on the market that is associated with 18 deaths, 10 heart attacks and according to a report from the GAO (Government Accounting Office) 105 serious adverse event reports?"
Using the hashtag "RottenRodney," Owoc claims to having exposed Monster Energy and its "250+ federal lawsuits and the 18 MONSTROUS deaths associated with Monster energy drink along with 10 heart attacks and 105 serious adverse event reports."
The post is likely directed towards Monster CEO Rodney Sacks, whose energy drinks have enjoyed a sizeable market share for decades.
On top of targeting Rodney Sacks, Owoc went after Coca Cola in the post, touting "Get ready Coke because Bang Energy is about to legally expose your collusion with RottenRodney and Monster energy!"
In 2015, Coca Cola bought a 16.7% stake in Monster for $2.15 billion. The deal proved to be invaluable to Monster with access to Coca Cola's robust distribution network. It is unclear what Owoc means with his claim of "collusion" between Coke and Monster.
Much like President Donald Trump, Owoc has used social media outlets to attack Bang Energy's largest competitors. In this case, the target is Monster Energy, Owoc's primary rival who has clashed with Bang Energy in multiple legal battles since 2018.
His knack for catchy name calling mimics Trump's own penchant for mocking his political enemies. "Rotten Rodney" is reminiscent of "Crooked Hillary" and even "Sleepy Joe."
While a final conclusion to the legal battle may arrive in 2020, a verdict has yet to be reached. Until then, spectators will continue to watch this drama unfold in the courts and on social media.
————————————————–
Have a story you want USA Herald to cover? Submit a tip here and if we think it's newsworthy, we'll follow up on it.
Want guaranteed coverage? We also offer contract journalism here.  Just be sure you're comfortable giving up editorial control because our journalists are dogged and will follow the story through to the conclusion. The story will be published to our exacting standards, without regard for your preferred slant.
Want to contribute a story? We also accept article submissions — check out our writer's guidelines here.