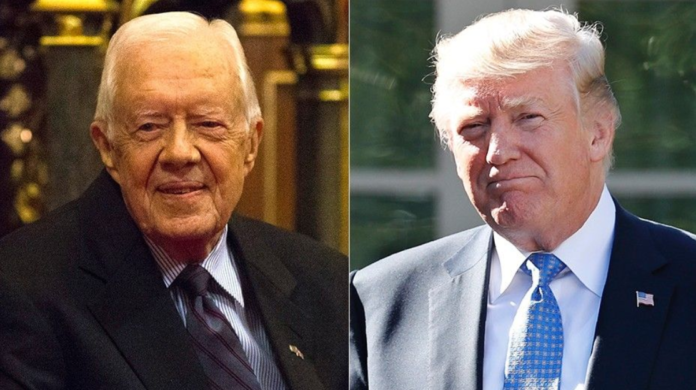 Former President Jimmy Carter recently spoke with the New York Times, asserting his belief that the media treats President Trump unfairly, as reported by Fox News.
A More In-Depth Look at Jimmy Carter's Words
"I think the media have been harder on Trump than any other president certainly that I've known about. I think they feel free to claim that Trump is mentally deranged and everything else without hesitation," Carter explained.
Many people were both surprised and displeased with Carter's statements. Firstly, in the current political climate, it's highly unusual for a liberal Democrat to defend President Trump. This apparently didn't sit too well with people. The New York Times also slammed Carter for what they referred to as "lust[ing] for a Trump posting."
Additional Statements from Carter
In addition to vocalizing his opinions on the media, Carter also spoke about Russia:
"I don't think there's any evidence that what the Russians did changed enough votes, or any votes."
He then shared his thoughts on the kneeling NFL players:
"I think they ought to find a different way to object, to demonstrate. I would rather see all the players stand during the American anthem."
As noted by Carter and his wife, they voted for Vermont Senator Bernie Sanders, not President Trump. However, Carter's commentary about the media, Russia, and NFL players echoes the thoughts of many conservatives.