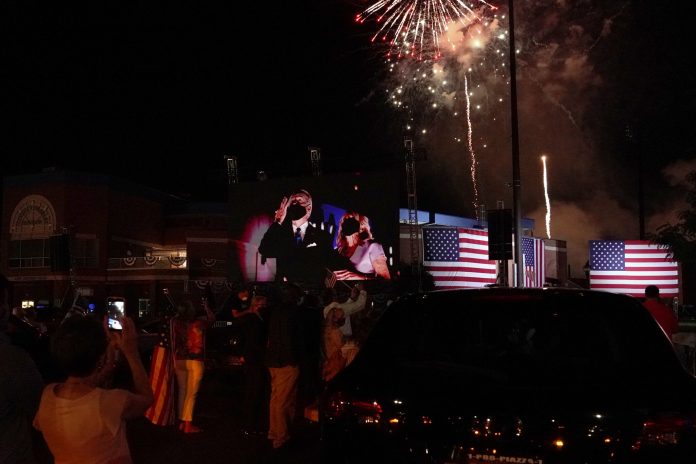 Thursday was the Democratic National Convention's prime time event, where Americans finally had the chance to hear Joe Biden lay out his vision for the United States, leaving prospective voters with a key question: What exactly does Joe Biden stand for?
In the speech, an impassioned Joe Biden claimed to be an "ally of the light, not of the darkness" in his fight to defeat President Donald Trump's "season of darkness" currently gripping America.
Biden's speech was characteristically different from his more far-left counterparts within the Democratic Party. Instead of utilizing radical rhetoric, Biden instead stuck to classic presidential talking points, channeling patriotism and unity.
Naturally, Biden's chosen subject matter is far from surprising. Since the beginning of 2020, the political narrative has largely stayed the same. Both COVID-19 and systemic racism have become buzzwords as of late.
Indeed, Biden talked a great deal about COVID-19, decrying Trump's response to the crisis. Also, the issue of racism was raised on multiple occasions. In one instance, Biden he
arkened back to the horrendous events in Charlottesville.
"Remember the violent clash that ensued between those spreading hate and those with the courage to stand against it? Remember what the president said? There were quote, 'very fine people on both sides.'"
After jabbing Trump, Biden went on to declare that America "is ready to do the work of rooting out our systemic racism."
While Biden's rhetoric is exactly what Democrats want to hear, the story is very different for undecided voters hoping for tangible solutions to America's current problems, mainly an economic recession, COVID-19, and healing the political divide that has ripped the country asunder.
One gets the suspicion that Biden and the Democratic Party is selling a feeling, not an actual reality, which could spectacularly backfire in November.
It remains to be seen whether Biden's speech will convince independent voters or if it will push them further into the arms of Trump, who is looking to capitalize on any mistakes made by the Democrats.
It is undeniable that Biden's speech was a gaffe-free event, giving Democrats a sigh of relief after months of avoiding comments on Biden's mental fitness and keeping him hidden away from interviewers.
As November inches closer, the Biden campaign will eventually have to answer tough questions.
For one, what exactly is the Biden-Harris plan?
Furthermore, what does Biden offer that Trump doesn't?
Trump too has a tough road ahead of him as Democrat criticism of his handling of COVID-19 and racial tensions has reached a fever pitch.
————————————————–
Have a story you want USA Herald to cover? Submit a tip here and if we think it's newsworthy, we'll follow up on it.
Want guaranteed coverage? We also offer contract journalism here.  Just be sure you're comfortable giving up editorial control because our journalists are dogged and will follow the story through to the conclusion. The story will be published to our exacting standards, without regard for your preferred slant.
Want to contribute a story? We also accept article submissions — check out our writer's guidelines here.