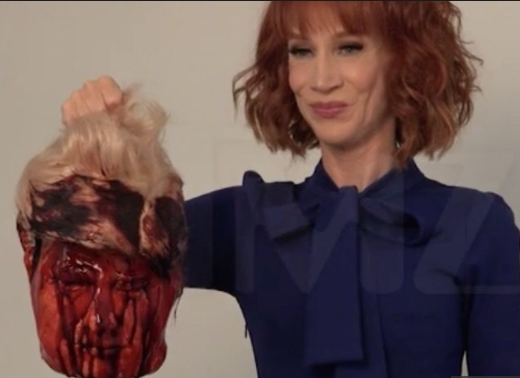 Former comedian Kathy Griffin recently came under fire after posing with an image of a faux and bloody decapitated head that strongly resembled President Trump. Since then, she received strong criticism (especially from the First Family and Trump supporters), lost multiple jobs and events, and social media users have expressed their disgust and outrage with the classless photograph. Earlier today, Kathy Griffin held a press conference to engage in what she called "fighting back against abuse and death threats." Amazingly, she failed to realize that she wasmerely digging herself into a deeper hole. The President and his family are not "bullying" her; they are rightfully speaking out against her despicable conduct.
President Trump recently stated that Kathy Griffin should be "ashamed of herself", especially since his 11-year-old son, Barron was traumatized by the disturbing image. The President's eldest son, Donald J. Trump Jr. also took to Twitter to express his distaste for the image and noted that he was "counting down" to explaining the matter to his 8 and 10-year-old children. Kathy Griffin's attorney, Lisa Bloom, stated that the First Family was responsible for Kathy receiving death threats and having multiple events and gigs cancelled. This statement is why liberal logic will always fail.
The First Family is not responsible for the losses that Kathy Griffin is suffering. Not a single person in the Trump family placed a gun to her head and forced her to pose with a bloody, decapitated Trump head. She made the decision on her own and she now has to suffer the innate consequences of her actions. Apparently, Kathy Griffin's little stunt was not as comical and well received as she thought it would be. To blame President Trump and his family for the results of Kathy Griffin's actions is outrageous. They have every right to speak out.
Furthermore, Kathy Griffin's inappropriate conduct and blame of the President directly mirrors the problem with modern day liberals. Engaging in foolery and then blaming powerful white men for it will no longer work. Kathy Griffin is an adult who knew exactly what she was doing. Part of adulthood is accepting responsibility for ones actions. During her pitiful press conference, she labeled President Trump as a "bully" and stated that she would "make fun of him even more." This is clearly a remorseless woman who has learned nothing and deserves to lose every gig, job, and event. Upstanding people should immediately distance themselves from her. Kathy Griffin believes that the President is a bully, yet doesn't view her actions as bullying and flagrantly announced her plans to continue.
Since the 2016 election, many Trump critics have made it their mission to scapegoat him for their failures and shortcomings. Kathy Griffin is simply the latest liberal to engage in this course of action. President Trump is not bullying Kathy Griffin. The First Family is not bullying Kathy Griffin. She engendered negative consequences by engaging in misdeeds that were beyond controversial. One could argue that posing with the head of a sitting President is advocating for his death. Kathy Griffin is responsible for her own downfall and she broke herself. While her career is unsalvageable and in shambles, President Trump continues to lead this nation with strength and dignity.