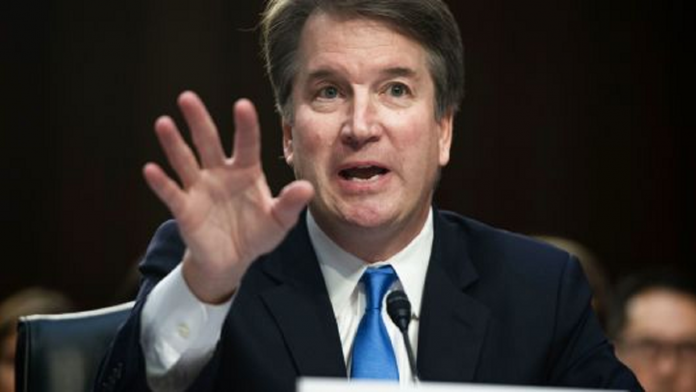 Senators began their last day of hearings questioning Supreme Court nominee Brett Kavanaugh on Friday. Despite protests and challenging questions, Kavanaugh seems on track for confirmation as the 114th Supreme Court Justice.
Hearings began Tuesday. The proceedings lasted more than 12 hours on Wednesday and Thursday. The most challenging questions senators posed were in regard to Kavanaugh's views on abortion and presidential authority.
Kavanaugh's Answers on Abortion Rights
Democrats questioned Kavanaugh's stance on abortion closely. They cited an email in which Kavanaugh seemed to question the permanency of Roe v. Wade. If Democrats can show that Kavanaugh would seek to overturn abortion rights, they might be able to sway votes against him.
The email, written while he was working for President George W. Bush, was in support of two judicial nominees. It read, "I am not sure that all legal scholars refer to Roe as the settled law of the land at the Supreme Court level since Court can always overrule its precedent, and three current Justices on the Court would do so."
Kavanaugh then stressed that he was not expressing his personal views in the email. He was writing on the likelihood of the Court reversing its decision. Throughout the hearings, he has said that it is difficult to change such precedents. He did not say whether he would try to change the precedent or not, nor did he say what his opinion is on abortion rights. Kavanaugh has been careful to keep the conversation limited to his legal opinions. He said, "Roe v. Wade is an important precedent of the Supreme Court."
Kavanaugh's Answers on Presidential Authority
As a nominee of President Donald Trump, senators wanted to know whether Kavanaugh would excuse himself from any cases involving the president. They referred specifically to Robert Mueller's ongoing investigation regarding possible collusion between Trump and Russia.
Kavanaugh did not state whether he would recuse himself. He did, however, stress that the judicial branch of the government is independent of the executive branch. Kavanaugh stated, "The way we stand up is by deciding cases and controversies independently without fear or favor," Kavanaugh said.
On the Docket for Friday
The Senate will hear testimony from approximately 25 people on Friday. Those opposed to Kavanaugh include John Dean and Rochelle Garza. Dean served as White House counsel under President Richard Nixon. He cooperated with prosecutors in the Watergate investigation. Garza is the legal guardian of an immigrant teenager. Kavanaugh tried to delay the teenager's abortion last year based on her status as a minor.
Former colleagues, students and friends will testify in support of Kavanaugh, citing his character and fair treatment of minorities.
Republicans are hoping that the Senate will confirm Kavanaugh by the start of next month, when the Supreme Court will begin its new term. If confirmed, Kavanaugh will fill the seat of retiring Justice Anthony Kennedy.