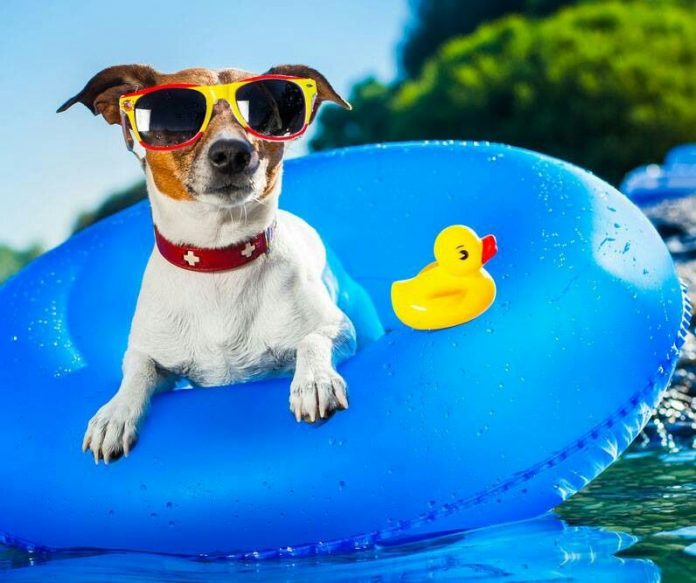 Celebrating the upcoming 4th of July is a 250-year-old tradition. And with cookouts, pool parties, parades, and fireworks people can have a lot of fun. So, by all means, celebrate and participate in the festivities! But don't forget to keep your pets safe and stress-free.
A celebration day for humans can be a nightmare scenario for our pets. And this is especially true when fireworks are involved. People tend to get excited and invigorated by fireworks. Our pets get agitated, stressed out, and over-react. 
The 4th of July is not the safest day for our cats and dogs, in particular. One startling statistic is that more pets go missing on the 4th of July than any other day.
And even a dog that doesn't react to thunderstorms may run away during the fireworks show. 
Loud noises and flashing lights tend to make pets overstressed. As the temperatures are on the rise in mid-summer, our furry friends may also become victims of the heat. And keep in mind that the trash from the family's cook-out may be toxic to our pets.
According to Chelsea Gennings, co-founder of Pet Releaf "While July 4th is fun for us humans, fireworks and travel can be scary and traumatic for our pets. This time of year, we urge pet owners to make a plan before it's too late. There are easy ways to make sure your pet stays safe and doesn't go missing during the fireworks season."
 Tips to keep pets stress-free 
Limit exposure to the sun. If the party is outdoors, bring along an umbrella and make sure there's room in the shade for your pets. P.S. They sunburn just like you do. And heat stroke is a real deal in animals.
If your pet is home alone while you are out celebrating, leave a radio or tv playing on low to soften the sounds and lessen the shock of the fireworks.

Whether you are cooking in or cooking out, keep fatty barbecue meats, onions, garlic, tomatoes, and chocolate out of the paws of your fur babies.

Resist the temptation to share any alcohol with your animal friends. A bowl of beer is a toxic situation.

 Remember to always handle fireworks with care. Even sparklers can cause panic in a pet. Proximity to the lights and noise can cause your pet to run away. And high anxiety in a pet does not fare well for their physical or emotional well-being.

If you are celebrating by the pool or near the river pay attention. If your dog doesn't know how to swim, keep them away from the water. And you might want to put a pet life jacket or flotation device on them just in case.

Fleas, ticks, and bugs are most active in the summertime. So, if your pet is going to be outdoors sure and prepare with flea shampoo or pet-friendly bug spray. After the party be sure and comb through your pet's fur. And check for lumps on the skin. Don't forget to bathe them after a hot buggy day outside.