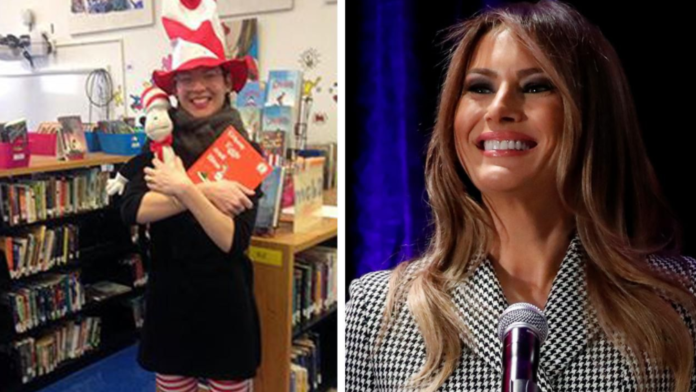 Liz Phipps Soeiro, a librarian employed by Cambridge Public School, made headlines after rejecting a series of Dr. Seuss books donated by First Lady Melania Trump. Soeiro's reason for the rejection cited that the books contained "racist propaganda," which raised many eyebrows.
The Full Story
As reported by Fox News, Soeiro slammed the First Lady's book donation, claiming she should have donated to more disadvantaged schools, before making the aforementioned "racist propaganda" accusation.
This declaration puzzled Americans for several reasons. Firstly, reading Dr. Seuss books to young children is a longtime tradition, especially for First Ladies. Both Laura Bush and Michelle Obama read Dr. Seuss books to children. There was never any outcry of the books' racism during that time. Also, the content of Dr. Seuss has not changed. Many Americans took to social media and expressed their beliefs that Soeiro's rejection of the books was motivated by politics.
Furthermore, shortly after Soeiro's comments, images of her in "The Cat and the Hat" attire began to surface online. Many people pointed out the contradiction between what Soeiro wore and what she said.
Response From The First Lady and Cambridge School District
Following Soeiro's rejection, the office of the First Lady released this statement:
"She has demonstrated this in both actions and words since her husband took office, and sending books to children across the country is but one example. To turn the gesture of sending young students some books into something divisive is unfortunate, but the First Lady remains committed to her efforts on behalf of children everywhere."
Cambridge School District also released a statement, affirming that Soeiro's words were not a representation of the school district's beliefs:
"The opinions expressed in the Horn Book editorial were those of the writer, and not a statement on behalf of Cambridge Public Schools. This was not a formal acceptance or rejection of donated books, but a statement of opinion on the meaning of the donation."