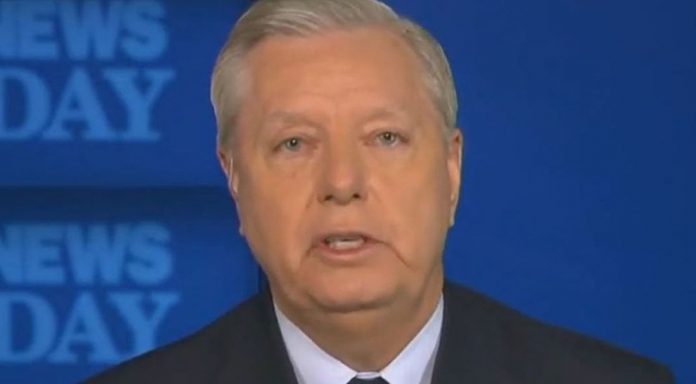 South Carolina Sen. Lindsey Graham is a tough one to figure out as he bounces back and forth between being MAGA and being a part of the establishment Republicans.
On Sunday he made a case for Eric Trump's wife, Lara Trump, to take the place of retiring Senator Richard Burr in North Carolina, said former President Donald Trump is needed for the Republicans to win and said Vice President Kamala Harris could be impeached.
"The biggest winner, I think, of this whole impeachment trial is Lara Trump," the senator said on "Fox News Sunday."
"My dear friend Richard Burr, who I like and have been friends to a long time, just made Lara Trump almost a certain a nominee for the Senate seat in North Carolina to replace him if she runs. I will certainly be behind her, because I think she represents the future of the Republican Party," he said.
Currently Eric and Lara are the only two members of the former president's immediate family who have not relocated to Florida, as they are still in North Carolina, which means that Lara can campaign for the seat vacated by Sen. Burr's retirement.
As for Sen. Burr, his statement after his vote to convict former President Trump did not make a ton of sense. He thought the trial was unconstitutional, until it was not, and then he voted to convict.
"When this process started, I believed that it was unconstitutional to impeach a president who was no longer in office. I still believe that to be the case," he said.
"However, the Senate is an institution based on precedent, and given that the majority in the Senate voted to proceed with this trial, the question of constitutionality is now established precedent," the senator said.
"The evidence is compelling that President Trump is guilty of inciting an insurrection against a coequal branch of government and that the charge rises to the level of high Crimes and Misdemeanors. Therefore, I have voted to convict," he said.
But the biggest news of the interview with Chris Wallace came when Sen. Graham said that Vice President Harris could be impeached.
"If you use this model (of impeachment), I don't know how Kamala Harris doesn't get impeached if the Republicans take over the House, because she actually bailed out rioters, and one of the rioters went back to the streets, and broke somebody's head open," he said. "So we've opened Pandora's Box here, and I'm sad for the country."
He was also not a fan of Senate Minority Leader and Kentucky Sen. Mitch McConnell's scathing diatribe against former President Trump after the impeachment trial.
"We need to unite the party," Sen. Graham said. "Trump-plus is the way back in 2022….We can't do that without Donald Trump, so he's ready to hit the trail, and I'm ready to work with him…the Trump movement is alive and well."
"I think [McConnell's] speech is an outlier regarding how Republicans feel about all this," he said. "I felt the impeachment trial was not only unconstitutional. I condemned what happened on January 6th, but the process they used to impeach this president was an affront to rule of law."
"All I can say is that the most potent force in the Republican Party is President Trump…the president is a handful, and what happened on January 6 was terrible for the country, but he's not singularly to blame. Democrats have sat on the sidelines and watched the country burn down for a year and a half and not said a damn word, and most Republicans are tired of the hypocrisy," he said.