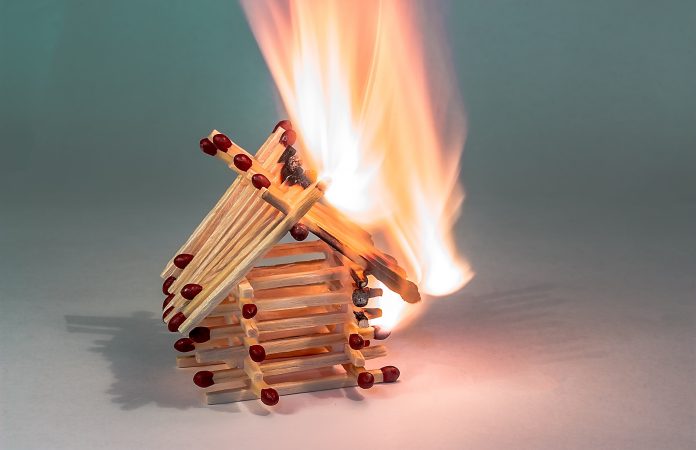 Arson Fraud Nightmare Becomes Reality
A Sacramento jury finds Saber A. Shehadeh, of Sacramento, guilty of three counts of mail fraud. The mail fraud relates to an arson fraud scheme wherein Shehadeh makes a series of false statements. The declarations are to the State Farm Insurance Company. As a result of the correspondence, Shehadeh is the recipient of insurance money after two fires destroy his buildings in Sacramento's Alkali Flat neighborhood.
For context, the fires occur in late December 2009, and mind August, 2010, and destroy Shehadeh's business, the Tru Value Market. Prior to the fires, Shehadeh's Tru Value Market business is not doing well. For example, Shehadeh receives a suspension from the USDA's food stamp program. Further, Shehadeh's financial condition is generally in distress. Evidence includes bounced mortgage checks and recurring overdrafts on his business bank account. And finally, Shehadeh's alcohol license is in jeopardy due to the food stamp fraud conviction, along with receiving stolen property.
The Sham Company 
As time moves on, and after the second fire, Shehadeh becomes a silent partner in a sham construction company. The company serves as a structure to submit swollen invoices for post-fire cleanup to State Farm. During State Farm's investigation of the insurance claims, Shehadeh makes a series of false statements about the status of his business prior to the fires. In fact, Shehadeh's statements are in direct contradiction to the dismal condition of his business and overall financial condition.
Additionally, Shehadeh submits fraudulent documents and makes false statements about the debris removal after the second fire. In the end, Shehadeh receives over $1.4 million in insurance proceeds. The proceeds enable Shehadeh to pay off his mortgage, while keeping several hundred thousand dollars for himself and others. The record indicates that Shehadeh uses some of the money to invest in new businesses and share with family members, including his co-defendant Jamal Shehadeh.
Play With Fire, Get Burned
As for Jamal Shehadeh he pleads guilty to two counts of arson to commit a felony and receives a sentence of 30 years in prison. According to his plea agreement, Jamal Shehadeh causes the fire to be set at Shehadeh's Sacramento property. Saber Shehadeh faces a maximum statutory penalty of 20 years in prison. The actual sentence, however, is at the discretion of the court in accordance with Federal Sentencing Guidelines.